No matter how hard we try, facial aging is bound to creep up on us. The effects of gravity, sun exposure, and stress can hasten many of the unwanted changes in the aging face. Many people decide to "turn back the clock" by seeking procedures such as facelift surgery. A facelift is an ideal operation for battling facial aging in the jowls, jawline, and neck area. It is an outpatient procedure performed under general anesthesia or twilight anesthesia. The general goal of facelift surgery is to lift the lower face and neck and remove excess skin. However, the recovery time for a traditional facelift can be daunting. Many patients are seeking less invasive options for fighting off signs of facial aging. A younger, more refreshed appearance can also be achieved with a Mini Lift. It offers similar results to a traditional facelift with less downtime and at a lower cost.
"I believe that a naturally rejuvenated appearance is the goal of every facelift."
~ Michael Persky, M.D.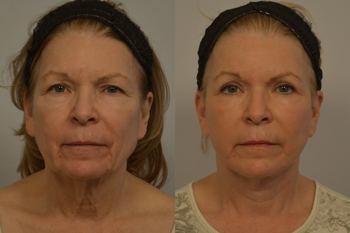 A Mini Lift Can Correct:
Loosening of the lower face
Sagging jowls
Sagging skin in the lower face
Candidates
A Mini Lift is less invasive than the standard facelift procedure, making it unsuitable for patients with advanced, excessive sagging of the skin along with loose neck bands. Patients who show early signs of facial sagging in the midface and jowl area may be good candidates for a Mini Lift. It is important that patients are in good health, do not smoke, and have realistic expectations.
The Consultation
During your consultation, Dr. Michael Persky or Dr. Sarmela Sunder will review your facial anatomy and discuss whether it is an appropriate procedure for you. At this time, you can discuss your goals, and you will receive a full facial examination. Often, patients may require additional procedures to achieve their desired results. Dr. Persky or Dr. Sunder will review your options and go over commonly combined procedures, such as fat removal from the neck (submental liposuction), eyelid surgery (blepharoplasty), laser skin resurfacing or chemical peel (Fraxel® and TCA peel), and volume restoration with injectable fillers or fat transfer.
Procedure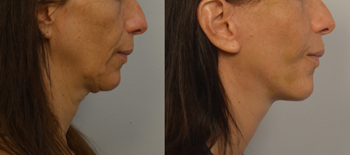 Dr. Sunder performs the most advanced and safest Mini Lift methods. The Mini Lift procedure takes about four hours and does NOT require general anesthesia, making it a comfortable in-office procedure utilizing local anesthetics and oral medications for optimum patient relaxation. A bidirectional technique is employed to tighten the skin and address the SMAS layer (superficial muscular aponeurotic system, which is a layer of tissue deep within the skin and subcutaneous tissue. It is one of the most important support structures for the face). Incisions are made in front of the ears, behind the ears, and in through the hairline on the back of the neck if needed. Incisions can be easily hidden along the natural creases where the cheeks meet the ears. Sutures are used to pull underlying fat and muscle, tightening the SMAS layer. Excess skin and tissue are removed, and the remaining skin is redraped and sutured closed.
Mini Lift vs. Standard Facelift
Although the results are similar to a standard approach externally, the Mini Lift does not surgically address the central neck area nor the platysma bands (neck bands) that become loose over time. The Mini Lift addresses specific early signs of aging to reverse a tired and aged appearance. Since a Mini Lift does not require a general anesthetic, patients find the procedure to be easier to tolerate in comparison to a standard facelift. They can wake up from the procedure without excessive weakness and drowsiness, and the majority of patients recover faster since it is less invasive. If a patient does not need a full lower facelift, a Mini Lift is an ideal option and costs less than a standard facelift. The average Mini Lift currently costs between $6,500 to $9,500 depending on the patient's anatomy and severity of correction needed.
Recovery
Patients are prescribed medication to alleviate discomfort after surgery. They will experience some swelling and discoloration from bruising that will improve throughout the natural healing process. Most patients can control discomfort using just TYLENOL® after a few days. The average recovery is ten days but varies on the individual. Typically, patients are back to work as early as seven days and can resume some regular activities within two weeks.
Results
Patients will notice the dramatic change in the structure of the face. They will have tighter and smoother facial skin that looks natural and refreshed. Depending on a patient's age, beauty habits, and diet, patients may enjoy their newly rejuvenated face up to five years.
To find out if a Mini Lift is the right procedure for you, schedule your consultation with Dr. Michael Persky or Dr. Sarmela Sunder today! They are experienced facial plastic surgeons who can help you to look and feel more youthful. Contact us by calling (818) 501-FACE or by filling out our online contact form.