Video Q & A with Dr Persky on Ulthera: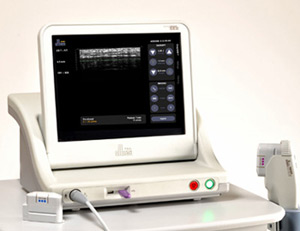 You look in your mirror, notice early signs of aging…a hint of jowling here, some sagging of the skin there…and then you place your hands on your cheeks in front of your ears and imagine what you would look like as you gently and subtly pull back and up, just a little, but it makes all the difference in the world. All of a sudden you look like you did years ago. But you are not ready to have an invasive surgical face lift. What if you were told that there is now an ultrasound machine that targets the same muscle tissue that is tightened with facelift surgery, but no surgery is required? Ulthera, an exciting new aesthetic device does just that.
Ulthera, used in our practice since 2011 is a safe and effective non-invasive ultrasound (US) treatment that can lift and tighten facial skin and muscle without downtime. According to Catherine Piercy, author of the well written Vogue article (April, 2011), "Ulthera…is making it much easier to imagine a world in which hooded lids, falling cheeks, and lazy jaw lines can be treated without a single incision".
Originally FDA approved for lifting eyebrows non-surgically, Ulthera's unique state of the art technology is now used to lift and tighten the face, neck, and other areas of the body including the décolleté and vertical chest sleep lines. It successfully treats the lines along the upper lip that are most difficult to treat with injectables.
Ultherapy® is performed in the office with only ultrasound gel applied to the skin. An ultrasound screen image allows Dr. Persky to visualize the level of treatment before US energy is applied to the targeted tissue. The treatment takes from 45 to 90 minutes depending on the area(s) treated. Cost also depends on the areas treated.
What about the discomfort level? Again from Ms. Piercy in Vogue, "If anything, Ultherapy's greatest drawback may be the pain factor, which ranges from a hot prickling sensation to short but intense bursts of discomfort". We strongly believe that our patients should be comfortable during their Ultherapy treatment. Our patients can be given oral medications or local anesthetic nerve block injections if needed, but many patients tolerate the treatment with only cold air blown on their face.
Although many patients see immediate lifting results, the ultimate results do not happen overnight, but gradually over time. It can take up to 2-3 months for optimal rejuvenation, though improvement continues for up to 9 months after treatment. Ulthera has been used since 2010 worldwide with hundreds of thousands of successful treatments. Patients often ask, "How long will my Ultherapy results last?" The best answer is that patients will, for the rest of their lives look better than they would have had they not had the treatment. Some patients return anywhere from 1 to 5 years for another Ulthera treatment. Though they still appear improved from their pre-treatment "before" photos, most desire further improvement, further turning back the hands of time. Ultherapy® is ideal for patients between 35 to 65 years old. Older maturepatients and those with excessively loose skin will benefit from either laser therapy or surgical face lifting.
Ulthera is both safe and effective with little to no downtime. As with all cosmetic treatments, results will vary depending on the skill, experience, and aesthetic sense of the treating physician. Dr. Michael Persky performs all of the treatments using his surgical knowledge of facial anatomy to ensure the best result for his patients. Results also depend on proper diagnosis and patient selection which with his experience, Dr. Persky knows which patients will benefit and which patients need surgical face/neck lifting instead. Side effects may include some bruising, swelling, and a feeling of tightness in the days after the procedure. Ultherapy® is often combined with facial volumizer Sculptra to give our patients maximum natural facial rejuvenation. Ultherapy® Amplify adds to our practice a valuable non-invasive tool in taking care of our patient's needs.