When it comes to superficial signs of aging, the mirror is not our friend. Every detail and feature becomes real when we see our reflection. Sagging along the face and jowls, fine lines, and wrinkles can not only make us look older but also tired and worn out. Many people find themselves pulling back their facial skin to imagine what it would look like to have tighter skin and a youthful complexion. Reminiscing about the "younger years" and what it would be like to undergo facelift surgery is common among those with visible signs of aging.
However, facelift surgery involves hours of general anesthesia, a long recovery, discomfort, and the risk of visible scarring. Thankfully, the latest innovation of Ultherapy® can now provide hope to those wanting to turn back the hands of time without resorting to "nipping and tucking" with a surgical knife. Ultherapy® is a new aesthetic device that can remove years of facial aging using ultrasound technology. Many are surprised to hear they can achieve tighter skin and remove wrinkles and fine lines without surgery and downtime.
If you are interested in an Ultherapy® Procedure, please schedule your consultation with Dr. Persky by calling (818) 918-9252. Join our newsletter to receive special offers & promotions exclusively available for subscribers.
Ultherapy® Can Correct: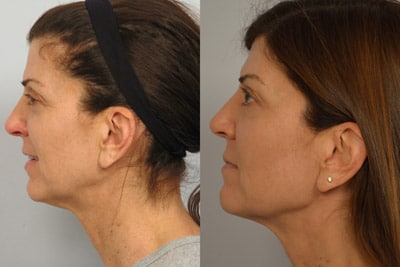 Drooping eyebrows
Fine lines above the upper lip and mouth
Jowls along the jawline, giving youthful definition to the jawline
Loose skin under the chin
Sagging skin on the neck
Creases and wrinkles on the décolletage
Vertical sleep lines on the chest
Candidates
Ultherapy® is FDA approved as safe and efficient for lifting and tightening the skin on the face, neck, décolletage, and other areas of the body. A patient who is in good health is realistic in their expectations, and would like to correct loose, hanging skin on specific areas of the body may be a good candidate for Ultherapy®.
The average Ultherapy® patient is between 35 and 65 years of age. Most older patients will benefit more from laser therapy or surgical face lifting. It is important that patients understand the procedure and are aware that some results may be immediately noticeable but that overall results will take time to fully develop. In fact, patients continue to improve over six to nine months.
The Consultation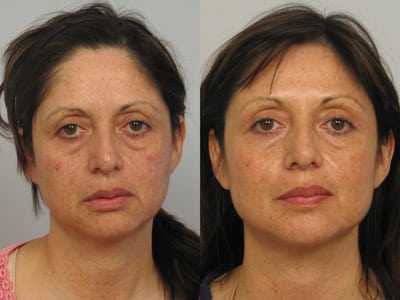 Open and honest communication is important during your consultation with Dr. Persky. He will evaluate your facial skin and anatomy to help you decide if Ultherapy® is a safe procedure to meet your goals. The severity of your facial wrinkling and amount of loose skin will help Dr. Persky decide if Ultherapy® will correct your problem areas or if you are more suited for a surgical facelift or neck lift instead. Dr. Persky performs all Ultherapy® procedures on his patients, unlike most other practices that delegate the treatment to nurses or physician assistants.
Dr. Persky believes that his expertise in surgical facial anatomy allows better interpretation of the live ultrasound during the treatment, resulting in more precise lifting and tightening.
Procedure
The skin is cleansed, and ultrasound gel is applied. Dr. Persky will place the smooth applicator against the skin. The depth of energy to be administered for optimal results is determined by examining the tissues using ultrasound imaging. Once this is determined, the applicator will exert focused ultrasound energy that treats the targeted tissue. During treatment, most patients feel small tingles as the applicator releases ultrasound energy, although comfort levels will depend on the patient.
Pain levels will range from a hot, prickling sensation to short but intense bursts of discomfort. To alleviate pain or discomfort, oral medications or local anesthetic nerve block injections can be administered, but many patients tolerate the treatment with only cold air blown on the treatment area.
Recovery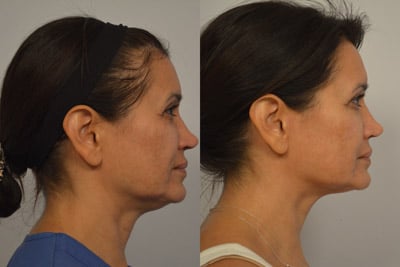 Ultherapy® is a non-invasive procedure that does not require any downtime. Many patients return to work immediately following the procedure and resume normal activities as usual. Ultherapy® is a safe and quick treatment, and most patients only require one session to achieve optimal tightness and firmness of the skin. Some patients may experience temporary side effects such as bruising, swelling, numbness, and skin tightness for a few days after the procedure.
Results
The majority of patients will immediately notice changes in their skin tone, tissue tightness, and overall aesthetics in the treated area. However, Ultherapy® results can take two to three months before optimal rejuvenation is achieved. The face will also continue to transform and improve for up to nine months.
Scheduling Your Consultation
Dr. Persky is an experienced and reputable facial plastic surgeon who has helped many patients achieve their cosmetic goals. Call our office in Encino today at (818) 918-9252 to find out how he can help you obtain the aesthetic you desire or to learn more about our financing options. You can also fill out our online contact form. 
If you are traveling from out-of-town, please call (818) 918-9252 and send an email to Bookings@DrPersky.com. Once your photos are reviewed, you will be contacted by the office. To make your visit as comfortable and convenient as possible, we have selected the best hotels in the Los Angeles, Sherman Oaks, Calabasas, Thousand Oaks, and San Fernando Valley areas. You can find the full list of recommended accommodations here.