We all wish we could have young, beautiful facial skin forever; however, aging is inevitable. Eventually, the aging process will make its mark on our faces—literally—with dreaded fine lines, wrinkles, creases, and folds. Even with the finest facial creams, at-home beauty treatments, exercise, and a healthy diet, the effects of aging continue to cause us to appear older on the outside than we feel on the inside. Many people may decide that the only way they can achieve younger and rejuvenated facial skin is through plastic surgery. Others might be apprehensive about undergoing a surgical procedure. With so many new technologies in the world of facial aesthetics, patients now can reverse the signs of aging without having to undergo a major face/neck lift surgical procedure. If you have any questions, contact Dr. Persky office in San Fernando Valley, and Calabasas.
Dr. Persky offers a wide variety of minimally invasive non-surgical treatments designed to reverse the signs of aging while providing amazing, beautiful, natural-looking results. Profound™ Lift is one of the latest innovations in the field of non-surgical cosmetic surgery. Profound™ Lift involves the use of microneedling and radiofrequency, and it can be used to treat sagging skin on the face and neck and to lift the forehead. It can also be used on other areas of the body to tighten skin and treat the dimples of cellulite.
If you are interested in a Profound™ Lift Procedure, please schedule your consultation with Dr. Persky by calling (818) 918-9252. Join our newsletter to receive special offers & promotions exclusively available for subscribers.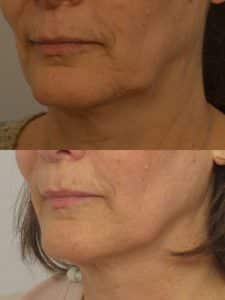 Benefits of Profound™ Lift:
Non-surgical
Tightens the facial skin
Rejuvenates the face
Elevates the eyebrows
Restores collagen, elastin, and hyaluronic acid
Improves the tone, texture, and color of the skin
One of the best treatments for acne scarring
Improves cellulite
Scarless healing
Candidates
Patients who want to achieve younger, firmer, and smoother skin may be ideal candidates for Profound™ Lift. Candidates should be in good health, realistic in their expectations, and seeking to reduce the signs of aging. A thorough skin evaluation by Dr. Persky will help you determine if Profound™ Lift is right for you.
The Consultation
Dr. Persky will evaluate your target area(s) and help you determine if Profound™ Lift is the right treatment for you. He may suggest other surgical options such as facelift surgery for those who have an excessive amount of sagging skin that needs to be addressed, or Ultherapy® may be best for those who do not have the five to seven days of downtime required by Profound™ Lift. Dr. Persky will design a treatment plan that will help you achieve more youthful, refreshed, and natural facial skin.
Procedure

Profound™ Lift is a new microneedle radiofrequency energy-based facial treatment designed to create new elastin, collagen, and hyaluronic acid. Sterile microneedles are deployed one to two millimeters in the skin, heating the dermis to exactly 67 degrees Fahrenheit for three seconds. There are five sets of microneedles that communicate with each other through electro- and thermo-couplers, which insures the safest and most effective treatment. The treatment will allow for controlled induction of the skin's self-repair mechanism by creating micro "injuries" in the skin that maximize and trigger new collagen, elastin, and hyaluronic acid synthesis. The procedure is completed within 30 to 90 minutes depending on the areas treated. Profound™ Lift can also be used to treat cellulite in the thighs and submental fat (double chin) using a deeper, more penetrating subcutaneous set of microneedles.
Platelet-Rich Plasma (PRP)
Dr. Persky may suggest combining Profound™ Lift with platelet-rich plasma (PRP). This treatment involves the collection of a tube of the patient's blood. The blood is spun down using a centrifuge to separate the plasma and platelet portion using the special gel as a filter. The PRP portion of the patient's blood is injected back into their skin to stimulate collagen production and re-energize the cells. This process will activate the cells and help rejuvenate the facial skin. Patients will experience some swelling in the treatment area that will last 12 to 24 hours. Ice or cold compresses can be used to alleviate any discomfort. Some patients will feel a tingling sensation while the cells are being activated.
Recovery
Patients may have pronounced swelling, redness, and bruising after their Profound™ Lift procedure that will subside after five to seven days. Swelling and bruising can last up to one week. There may be mild discomfort for the first 12 to 24 hours that can be easily controlled using ice and over-the-counter pain relievers such as TYLENOL®. For at least one week, the sun, exercise, steam, and sauna should be avoided and only a gentle cleanser should be used to wash the areas treated. Patients should not scrub the skin but instead soak it with a soft washcloth or use their hands only. The skin should be kept hydrated and moisturized by using Aquaphor® for the first few days following a gentle moisturizer such as Cetaphil® for the next few weeks.
Results
Patients will notice their skin will be smoother, firmer, and younger-looking once it has healed, as early as two to three weeks following their Profound™ Lift treatment. Most patients see dramatic results after three months, with their results continuing to improve for six to nine months after their treatment. The procedure is considered a "one-time treatment." Profound™ Lift has been performed safely and effectively on thousands of patients worldwide since 2013. The results are long-lasting, and patients will always look better for the rest of their lives than they would have had they not had the treatment. The longest results for the treatment are four years since it came to market. Patients may have a second Profound™ Lift treatment for further improvement, but not before at least one year after their initial treatment. Patients who practice a healthy lifestyle, such as following a daily skin care regimen, consuming an antioxidant diet, and refraining from smoking, will achieve optimal, long-lasting results.
Scheduling Your Consultation
Dr. Persky is an experienced and reputable facial plastic surgeon who has helped many patients achieve their cosmetic goals. Call our office in Encino today at (818) 918-9252 to find out how he can help you obtain the aesthetic you desire or to learn more about our financing options. You can also fill out our online contact form. 
If you are traveling from out-of-town, please call (818) 918-9252 and send an email to Bookings@DrPersky.com. Once your photos are reviewed, you will be contacted by the office. To make your visit as comfortable and convenient as possible, we have selected the best hotels in the Los Angeles, Sherman Oaks, Calabasas, Thousand Oaks, and San Fernando Valley areas. You can find the full list of recommended accommodations here.