The eyes are the window to the soul. Eyes can reveal a lot about a person, especially their age and how they feel. Our eyes project our emotions, whether we are sad, happy, upset, or angry. They are a central focus and feature of the face and can have an enormous impact on how we are perceived by others as well as how youthful we appear. When a person has excess fat and skin in the upper and lower eyelids, it can cause an aged, tired, and worn out appearance. Heavy eyelids are unpleasing and unattractive. Physically droopy upper eyelids can restrict the field of vision and compromise eyesight.
Eyelid lift surgery (Blepharoplasty), addresses excess skin and fat bulges in the lower eyelids and upper eyelids. After blepharoplasty, patients feel bright-eyed and have improved vision. Patients tell us that they feel rejuvenated and that it was "the best thing that they ever did to look better." They no longer appear tired in the morning and at night before bed, no matter how much or little sleep they may have gotten. Women can apply eye shadow on the new natural upper eyelid platform.
If you are interested in a Blepharoplasty Surgery in San Fernando Valley, Calabasas, Sherman Oaks or Encino, please schedule your consultation with Dr. Persky by calling (818) 918-9252. Join our newsletter to receive special offers & promotions exclusively available for subscribers.
Blepharoplasty Can Correct: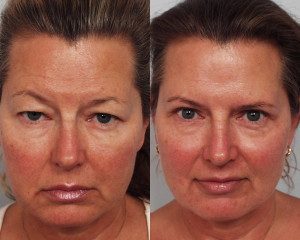 Excess skin that covers the natural fold of the upper eyelids and may impair vision
Fatty deposits in the upper and/or lower eyelids that create puffiness or bags
Excess skin that creates fine wrinkles in the upper and lower lids
Drooping lower eyelids that may reveal the whites of the eyes
Candidates
An ideal candidate is a man or woman with excessive skin in their upper eyelids but whose eyebrows are at the upper level of the upper orbital bone (not sagging). Patients should be in good health, have realistic expectations, and desire to undergo the surgery for the right reasons. During your consultation, Dr. Persky can evaluate your eyelid skin and help you to decide if you are a good candidate for blepharoplasty.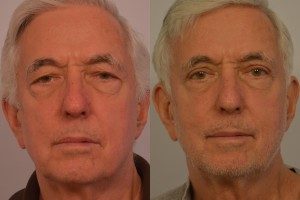 The Consultation
Before the consultation, it is important that you have a clear idea of your goals for this procedure. Dr. Persky recommends bringing in a picture of your younger self to provide him with a good idea of the results you are hoping to achieve. He will evaluate your eyelids and the excess skin to help you to decide on the right procedure. Dr. Persky offers a special clear tape strip applied on your upper eyelids during your consultation, which lifts the excess eyelid skin to give you a better idea of the results you can achieve.
Eyelid Surgery Procedure
By offering modern advancements in plastic surgery techniques, Dr. Persky can perform blepharoplasty in-office within one hour. Before surgery, patients are prescribed XANAX® and given Demerol™ to help them to feel relaxed and comfortable. Once in the operating room, local anesthesia is administered. The only discomfort that patients typically feel is a small pinch from the injection of anesthesia. Most patients fall asleep during the procedure.
Dr. Persky makes an incision along the natural fold of each upper eyelid, through which he can remove excess fat, muscle, and skin. For the most part, Dr. Persky avoids removing too much fat and muscle, if any at all, to leave the patient with natural volume in the upper eyelids and avoid a hollowed look. In cases where Dr. Persky needs to remove excess fat and bags beneath the eyes, he will make an incision along the inside of each lower eyelid.
Eyelid Surgery Recovery
Patients can return home immediately following their procedure keeping their head elevated on two to three pillows and using baggies of frozen peas for the first two days. Patients are provided with a moisturizing eye gel to keep their eyes from getting dry or irritated. Most patients can return to their normal activities within a few days, although complete recovery may take a few weeks. Sutures will be removed in four to five days. Depending on the patient's level of healing, makeup can be used to conceal any scarring after seven days. Swelling and bruising are normal for the first seven to fourteen days.
Eyelid Surgery Results (Before and After)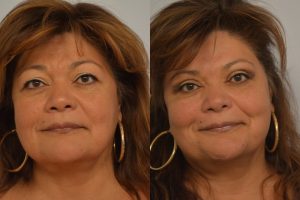 Most patients see dramatic results immediately the following blepharoplasty and are happy with their results. Their eyes will reveal a more open and alert appearance. Within two months, scarring will have completely healed, leaving no visible clue that the patient had surgery. With a healthy skin care regimen and sun protection, patients can enjoy their results for many years. When properly performed, blepharoplasty is a one-time procedure for most patients that lasts for a lifetime.
Scheduling Your Consultation
Dr. Persky is an experienced and reputable facial plastic surgeon who has helped many patients achieve their cosmetic goals. Call our office in Encino today at (818) 918-9252 to find out how he can help you obtain the aesthetic you desire or to learn more about our financing options. You can also fill out our online contact form. 
If you are traveling from out-of-town, please call (818) 918-9252 and send an email to Bookings@DrPersky.com. Once your photos are reviewed, you will be contacted by the office. To make your visit as comfortable and convenient as possible, we have selected the best hotels in the Los Angeles, Sherman Oaks, Calabasas, Thousand Oaks, and San Fernando Valley areas. You can find the full list of recommended accommodations here.