Blepharoplasty in Encino, CA
It is often said that, "The eyes are the window to the soul." Eyes reveal a lot about a person, especially their age, their energy, and how they feel. Our eyes project our emotions, whether we are sad, happy, upset, or angry. They are a central focus and feature of the face and can have an enormous impact on how we are perceived by others as well as how youthful we appear. The eyes are the central focus of the face and are the first feature noticed by others. When a person has excess fat and/or skin in the upper and lower eyelids, it can cause an aged, tired, and worn-out appearance. Heavy eyelids are unpleasant and unattractive. Physically droopy upper eyelids can restrict the field of vision and compromise eyesight.
Blepharoplasty, or eyelid lift surgery, addresses excess skin and fat bulges in the lower eyelids and upper eyelids. After blepharoplasty, patients feel bright-eyed, refreshed, and, in many cases, have improved fields of vision. Patients tell us that they feel rejuvenated and that it was "the best thing that I ever did to look better." They no longer appear tired in the morning and at night before bed—no matter how much or little sleep they may have gotten. Conversely, even if they have not had enough sleep, they look rested when arising in the morning. After upper eyelid surgery, women are able to apply eye shadow on their new natural upper eyelid platform.
Blepharoplasty Can Correct: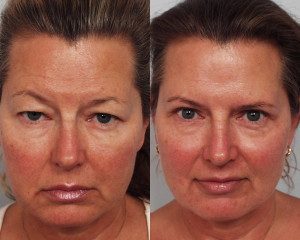 Excess skin that covers the natural fold of the upper eyelids which may impair visual fields
Fatty deposits in the upper and/or lower eyelids that create puffiness or bags
Excess skin that creates fine wrinkles in the upper and lower lids
Drooping lower eyelids that may reveal the whites of the eyes (ectropion)
Am I a Candidate for Blepharoplasty?
An ideal candidate for blepharoplasty has excess skin in their upper eyelids with eyebrows that are not sagging (the eyebrows are at or above the upper bony ledge of the orbital bone). Patients should be in otherwise good health, have realistic expectations, and desire to undergo the surgery for the appropriate reasons. During your consultation, Dr. Persky will evaluate your eyelid skin and help you to decide if you are a good candidate for blepharoplasty.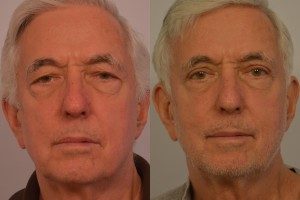 What Should I Expect From My Blepharoplasty Consultation?
Before the consultation, it is important that you have a clear idea of your goals for this procedure. Dr. Persky recommends bringing in a picture of your younger self to provide him with a good idea of the results you are hoping to achieve (though many patients have congenital heavy upper lids that they have lived with their entire lives). He will evaluate your eyelids and the excess skin to help you to decide on the right procedure. Dr. Persky offers a special clear tape strip applied on your upper eyelids during your consultation, which lifts the excess eyelid skin to give you a preview and better idea of the results you can expect to achieve.
How Much Does Blepharoplasty Cost?
The cost of blepharoplasty surgery varies between patients depending on their specific needs and goals for the procedure. Blepharoplasty cost involves the surgeon fee, operating room costs, and anesthesia fees. A consultation with Dr. Persky can help you determine a more accurate financial estimate. In most cases, Dr. Persky performs your surgery in the office comfortably under local anesthesia, saving patients the operating room and anesthesiology fees.
We offer financing with CareCredit® to help you pay for your surgery. 
How Can I Prepare for Blepharoplasty?
To prepare for your blepharoplasty, you should stop smoking and discontinue taking anti-inflammatory medications for at least 10 to 14 days before surgery as they can thin your blood and increase your risk of complications during and after surgery. You should also plan to take adequate time off work and other obligations to rest and properly recover. The eyelids can be swollen and bruised for three to seven days. Your stitches stay in place for five to seven days. By one week, patients are able to use eye make up. If you have young children, it will be important to plan for childcare as it may be difficult to drive and take care of them as you usually would for the first 48 hours.
 
Can Blepharoplasty Be Combined With Any Other Procedures?
Blepharoplasty is commonly performed in conjunction with other facial procedures. Speak with Dr. Persky to determine if it is safe for you to combine plastic surgery procedures. Some procedures commonly performed with blepharoplasty include: 
What Is the Blepharoplasty Procedure Like?
By offering modern advancements in plastic surgery techniques, Dr. Persky can perform blepharoplasty in-office within one hour. Before surgery, patients are prescribed XANAX® and given Demerol™ to help them to feel relaxed and comfortable. Once in the operating room, a local anesthesia is administered. The only discomfort that patients typically feel is a small pinch from the injection of anesthesia. Most patients fall asleep during the procedure.
Dr. Persky makes an incision along the natural fold of each upper eyelid, through which he can remove excess fat, muscle, and skin. For the most part, Dr. Persky avoids removing too much fat and muscle, if any at all, to leave the patient with natural volume in the upper eyelids and avoid a hollowed look. Our goal is to leave our patients with a most natural appearance. In cases where Dr. Persky needs to remove excess fat and bags beneath the eyes, he will make an incision along the inside of each lower eyelid.
What Are the Risks of Blepharoplasty?
Blepharoplasty is a generally safe procedure with minimal risk of complications. However, with any surgery, there are some risks. Risks of blepharoplasty include:
Infection
Bleeding
Dry eyes
Scarring
Possible, but rare, loss of vision
If you are concerned about the risk of complications during blepharoplasty, please talk with Dr. Persky so that he can address your concerns.
Is Blepharoplasty Surgery Painful?
A local anesthetic is used to numb the surgical site so that you feel no pain during the procedure. You should not experience pain and discomfort during your recovery—this would be abnormal, and patients are encouraged to immediately contact our office. Over-the-counter or prescription pain medication can be taken as needed.
Can I Drive Home After Blepharoplasty?
Although blepharoplasty is performed using a local anesthetic, you should still have someone drive you home after the surgery. You may experience minimal blurred vision for a few hours after surgery from the protective ointment placed in the eyes, as well as swelling that would make driving difficult and even dangerous during the first 48 hours post surgery.
What Should I Expect From Blepharoplasty Recovery?
Patients can return home immediately following their procedure keeping their head elevated on two to three pillows and using baggies of frozen peas for the first two days. Patients are provided a moisturizing eye gel to keep their eyes from getting dry or irritated. Most patients can return to their normal activities within one week. Sutures will be removed in five to seven days. Depending on the patient's level of healing, makeup can be used to conceal any scarring after seven days. Swelling and bruising are normal for the first five to 10 days.
When Will I Notice My Results From Blepharoplasty?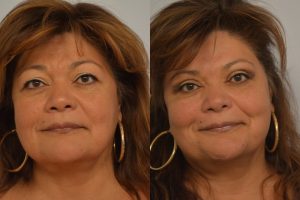 Most patients see dramatic results immediately following blepharoplasty. Their eyes will reveal a more open and alert appearance. Within two months, the small wounds will have completely healed, leaving extremely minimal visible clues that there was surgery.
Are the Results From Blepharoplasty Permanent?
With a healthy skin care regimen and sun protection, patients can enjoy their results for many years. When properly performed, blepharoplasty is a one-time procedure for most patients that lasts for a lifetime.
Interested in Learning More?
If you are interested in blepharoplasty, Dr. Persky is an experienced facial plastic surgeon who can help you achieve your aesthetic goals. To schedule your consultation, contact our office by calling (818) 501-3223 or by filling out our online contact form.