Jawline Contouring With JUVÉDERM® VOLUX™ XC in Encino, CA
JUVÉDERM® is known as the preeminent leader in the world of injectable facial fillers and has recently added VOLUX™ XC to their family of age-defying beauty products.
JUVÉDERM® VOLUX™ XC is a long-lasting hyaluronic acid filler designed to improve jawline and chin contours in women and men with jowling or lack of definition in these areas.
Dr. Michael Persky is a board-certified plastic surgeon known for providing top-level care and offering both surgical and non-surgical cosmetic options to his patients. He is happy to announce the availability of JUVÉDERM® VOLUX™ XC in Encino, California, for individuals over 21 with aesthetic concerns regarding their jawlines or chins.
Am I a Candidate for JUVÉDERM® VOLUX™ XC?
Whether you have long felt that nature didn't provide you with your ideal jawline or chin contours, or age has caused jowling to appear, JUVÉDERM® VOLUX™ XC can help.
What Is Discussed During a Jawline Recontouring Consultation?
Dr. Persky will listen carefully to your facial beauty goals and ask you about any existing concerns, medical conditions, previous treatment history, and current medications.
This information, along with an evaluation of your existing facial contours and skin, will help determine the best options to improve your jawline or chin definition and address any other areas you may want to have treated.
How Does JUVÉDERM® VOLUX™ XC Work?
The secret of JUVÉDERM® VOLUX™ XC is the high concentration of hyaluronic acid (HA). This injectable has a thick consistency, and the gel behaves more like a custom implant than a dermal filler.
When VOLUX™ is injected, it settles into the targeted area and mimics the appearance of bone. Dr. Persky can create natural-looking, smooth, and long-lasting jawline and chin contours. Dr. Persky uses his natural artistic vision to sculpt the jawline which, in turn, improves the appearance of the neck.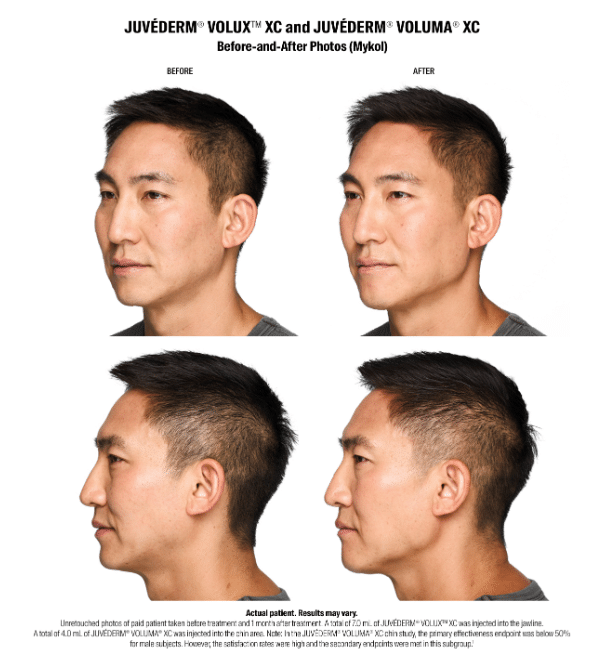 Is There Any Downtime Associated With JUVÉDERM® VOLUX™ XC?
JUVÉDERM® VOLUX™ XC is a non-surgical, minimally invasive cosmetic treatment with little to no downtime.
In a clinical study, the most common side effects were soreness, redness, swelling, bruising, itching, discoloration, and lumps near the injection sites, similar to other hyaluronic acid fillers.
Most of these side effects were mild or moderate and subsided within a few days to two weeks.
What Results Can I Expect From JUVÉDERM® VOLUX™ XC?
During a clinical trial, JUVÉDERM® VOLUX™ XC patients reported being highly satisfied with their results, which makes sense since, before now, the only truly effective treatment for this area was facelift or neck lift surgery.
Because jawline contours contribute considerably to one's appearance, and this facial area can be difficult to treat, the Allergan™ Medical Institute provides intense training to ensure practitioners gain the knowledge and master techniques necessary to deliver excellent results safely. Dr. Persky is a certified "Master Injector." Results are estimated to last between 12 and 18 months.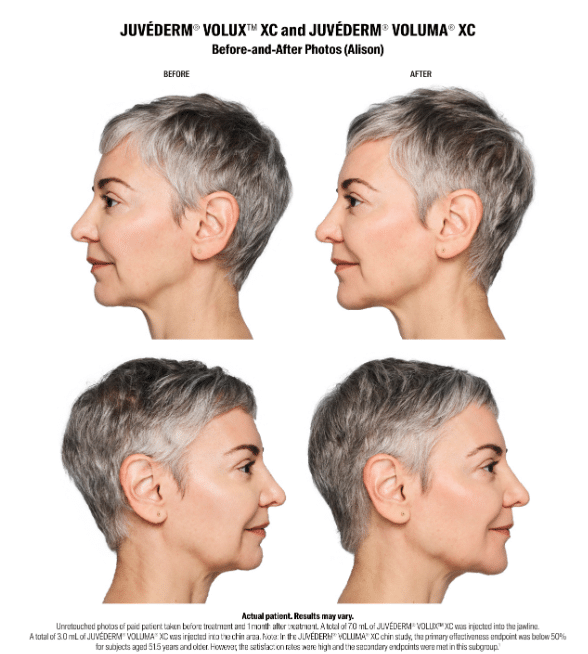 JUVÉDERM® VOLUX™ XC | Non-surgical Jowl Treatment in Encino, CA
We are committed to providing state-of-the-art surgical and non-surgical cosmetic treatments, including JUVÉDERM® VOLUX™ XC, JUVÉDERM VOLUMA® XC, and other JUVÉDERM® products at our popular Encino practice location.
Patients who receive JUVÉDERM® treatments at our Encino, California, office can be enrolled in Allē, a loyalty rewards program offered by Allergan™ Aesthetics for access to unique content, offers, and rewards, including savings on Allergan™ Aesthetics' line of advanced cosmetic products.
To learn more about what Dr. Persky can accomplish for you with JUVÉDERM® VOLUX™ XC, call our Encino, California, office at (818) 501-3223. We look forward to meeting with you as well as the privilege of helping you achieve and maintain your aesthetic goals for many years to come. Be well!