With JUVÉDERM® Ultra Plus XC and JUVÉDERM VOLBELLA® XC
Aging and gravity can cause many changes to the face. Beginning at 25 years old, the face loses volume including bone, fat, and muscle mass. We may develop unwanted signs of aging including fine lines and wrinkles as we age. Some people also notice their lips show signs of aging and lack fullness. JUVÉDERM® Ultra Plus XC and JUVÉDERM VOLBELLA® XC can be used to restore the volume of the lips and diminish the appearance of lip and perioral (around the mouth) rhytids (lines). Michael A. Persky, M.D. is one of the first doctors in the United States to perform JUVÉDERM VOLBELLA® XC lip injections. JUVÉDERM VOLBELLA® XC has been used for the past four years in Europe and Canada and was FDA approved for use in the U.S. in October 2016.
Whether you have naturally small lips or have developed thin lips due to aging, you may take advantage of lip augmentation. Dr. Persky can help a person achieve fuller lips that look beautifully natural. Without requiring surgery or downtime, JUVÉDERM® Ultra Plus XC and JUVÉDERM VOLBELLA® XC are ideal options for patients who want to enhance the appearance of their lips. If you are interested in this procedure, contact Dr. Persky office in Encino, San Fernando Valley, and Calabasas.
If you are interested in a Lip Augmentation Procedure, please schedule your consultation with Dr. Persky by calling (818) 918-9252. Join our newsletter to receive special offers & promotions exclusively available for subscribers.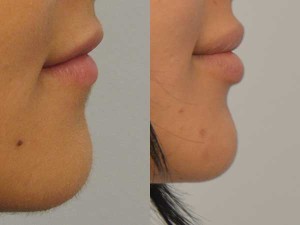 Lip Augmentation Can Correct:
Perioral lines (lines that appear around the lips)
Undefined lip shape
Lack of volume in the lips
The appearance of dry and dehydrated lips by improving hydration
Candidates
Patients who wish to improve the appearance of their lips may benefit from JUVÉDERM® Ultra Plus XC or JUVÉDERM VOLBELLA® XC for lip augmentation. Patients who have multiple allergies or severe allergic reactions and those who are allergic to lidocaine or Gram-positive bacteria should refrain from undergoing treatment with these products. Ideally, patients should be in good health, not be pregnant, not smoke, and have realistic expectations.
The Consultation
Dr. Persky will evaluate your goals and facial anatomy to help you decide if JUVÉDERM® Ultra Plus XC or JUVÉDERM VOLBELLA® XC is right for you. During the consultation, you should discuss your medical history and mention any allergies you have. After examining the severity of wrinkles and lines around the mouth and lips, Dr. Persky will help you decide on the right treatment. Dr. Persky uses the classical proportional ratios described by Leonardo da Vinci (The Divine Ratio) to ensure that your lips will be naturally beautiful.
Procedure

Dr. Persky will strategically inject the JUVÉDERM® solution that contains a local anesthetic to create the patient's desired outcome. In addition, some patients may request a "dental anesthetic nerve block" injection to not feel their treatment. During the treatment, multiple injections may be administered beneath the skin along the mouth and lips to produce the desired results. Dr. Persky uses microcannulas, which are less traumatic, more comfortable, and safer for lip injections, resulting in a more pleasant experience with much less swelling and bruising.
JUVÉDERM® Ultra Plus XC
JUVÉDERM® Ultra Plus XC is an injectable gel specifically designed for targeting the perioral area and lips and is only recommended for adults over the age of 21.
JUVÉDERM VOLBELLA® XC
JUVÉDERM VOLBELLA® XC with lidocaine is a lip filler treatment that has been specially formulated with VYCROSS™ to help create a natural look and feel to the skin.
Recovery and Results
Some patients may experience slight redness, swelling, and bruising in the injection area; however, any discomfort should alleviate within a week. After 12 hours, makeup can be used to cover any skin discoloration. Patients can go about their normal day immediately following their lip augmentation. Both JUVÉDERM® Ultra Plus XC and JUVÉDERM VOLBELLA® XC results are expected to last up to one year. Although repeat treatments are necessary to maintain long-term results, many patients are happy with the outcome. They can look and feel younger without looking fake or unnatural.
Scheduling Your Consultation
Dr. Persky is an experienced and reputable facial plastic surgeon who has helped many patients achieve their cosmetic goals. Call our office in Encino today at (818) 918-9252 to find out how he can help you obtain the aesthetic you desire or to learn more about our financing options. You can also fill out our online contact form. 
If you are traveling from out-of-town, please call (818) 918-9252 and send an email to Bookings@DrPersky.com. Once your photos are reviewed, you will be contacted by the office. To make your visit as comfortable and convenient as possible, we have selected the best hotels in the Los Angeles, Sherman Oaks, Calabasas, Thousand Oaks, and San Fernando Valley areas. You can find the full list of recommended accommodations here.