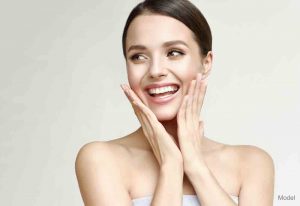 Defined, angular cheeks help to create beautiful facial contours. However, your cheeks may naturally lack definition, or you may have lost volume as you've aged. Hollowed or flat cheeks can lead to an aged or fatigued facial appearance that doesn't adequately represent your youthful spirit and lively personality. Non-surgical cheek augmentation is capable of creating natural, youthful cheek volume that immediately gives a rested, beautiful lift to the entire face.
Dr. Michael A. Persky, uses JUVÉDERM VOLUMA® XC, the most effective, FDA-approved injectable treatment for cheek augmentation. Dr. Persky has been using injectable facial fillers since their release to the market over 30 years ago. He routinely trains other doctors on the practice of injecting fillers, and he personally treats all of his patients. He has answered thousands of patient questions on the patient information site RealSelf.com. Additionally, Dr. Persky has performed more JUVÉDERM VOLUMA® XC treatments than any other practitioner in the San Fernando Valley & Calabasas area.
If you are interested in a Cheek Augmentation Procedure, please schedule your consultation with Dr. Persky by calling (818) 918-9252. Join our newsletter to receive special offers & promotions exclusively available for subscribers.
Cheek Augmentation Can:
Correct naturally undefined cheeks
Correct cheeks that have lost volume
Restore facial balance
Reduce under-eye hollows and tiredness
Improve "crow's feet"
Improve the nasolabial fold "smile lines"
Lift the jowls
Improve the jawline
Candidates
People considering cheek augmentation should be in good health and have realistic expectations about their results. Dermal injections are not recommended for people with skin irritations or surface wounds. JUVÉDERM VOLUMA® XC for cheek augmentation can help restore a fuller facial appearance, and with Dr. Persky's injection technique (de Maio Voluma Master Injector Technique combined with his natural artistic vision), you can enhance your facial definition and improve the symmetry of your face in a safe and effective manner within minutes.
The Consultation
During your consultation, Dr. Persky will evaluate your facial features and determine if you are a good candidate for this non-surgical cheek augmentation procedure. He will also decide which technique will best achieve the natural results you desire. Dr. Persky may recommend other procedures to combine with your cheek augmentation to achieve your ideal facial contours. Dr. Persky is also an expert and physician trainer in the use of Sculptra® Aesthetic, a collagen-stimulating injectable used to complement VOLUMA® results in appropriate patients.
Cheek Augmentation Procedure
Dr. Persky uses JUVÉDERM VOLUMA® XC, a high-quality natural hyaluronic acid injectable, to create beautifully sculpted cheeks. The goal is to replace volume naturally, not to add more volume than the patient has ever had in their life! If the results of cheek augmentation are obvious, then your injecting physician has failed you. Only you should be able to tell the difference; others should just ask why you look so great.
Your skin is thoroughly cleansed with antibacterial soap. Ice and optional topical anesthetic are applied prior the injectable treatment to eliminate any associated discomfort. Most patients feel that BOTOX® Cosmetic injections are more uncomfortable than VOLUMA® cheek augmentation. Dr. Persky injects the JUVÉDERM VOLUMA® XC formula using a fine needle, which leaves no visible residual.
Recovery
You may have some bruising and swelling following your cheek augmentation, but this should not prevent you from immediately returning to work or your daily activities. JUVÉDERM VOLUMA® XC injections offer a safe and routine treatment with minimal side effects. Dr. Persky asks that his patients do not work out for 24 to 36 hours after injections to minimize the chance of bruising. On rare occasions, a lump or bump may form at the injection site, but they resolve over time.
Results
You should immediately notice a visible improvement in the shape of your face after the treatment. JUVÉDERM VOLUMA® XC is known to provide cheek augmentation results that last one and a half to two years, but these results can vary between patients. Remember, choose your injecting facial aesthetic physician most carefully based on their skill, experience, knowledge, and most importantly, their natural artistic vision. Be well.
Scheduling Your Consultation
Dr. Persky is an experienced and reputable facial plastic surgeon who has helped many patients achieve their cosmetic goals. Call our office in Encino today at (818) 918-9252 to find out how he can help you obtain the aesthetic you desire or to learn more about our financing options. You can also fill out our online contact form. 
If you are traveling from out-of-town, please call (818) 918-9252 and send an email to Bookings@DrPersky.com. Once your photos are reviewed, you will be contacted by the office. To make your visit as comfortable and convenient as possible, we have selected the best hotels in the Los Angeles, Sherman Oaks, Calabasas, Thousand Oaks, and San Fernando Valley areas. You can find the full list of recommended accommodations here.