Stubborn fat can be hard to get rid of even with a healthy lifestyle. No matter how strenuous a person's workout routine is or how strict of a diet they follow, some pockets of fat just don't want to go away and are resistant to diet and exercise. CoolSculpting® is a non-invasive procedure that is like no other and eliminates fat cells from specific localized areas of the body. With CoolSculpting®, fat reduction is possible without needles, anesthesia, or pain. Although the results are not as rapid or dramatic as those achieved with surgical liposuction, CoolSculpting® permanently eliminates fat cells with no recovery time, minimal risks, and no pain. Patients can safely and effectively get rid of troublesome fat without any downtime with this quick and simple in-office procedure. We offer services in Encino, San Fernando Valley, and Calabasas.
If you are interested in a CoolSculpting® Procedure, please schedule your consultation with Dr. Persky by calling (818) 918-9252. Join our newsletter to receive special offers & promotions exclusively available for subscribers.
Resorption of Fat – Where the Fat Goes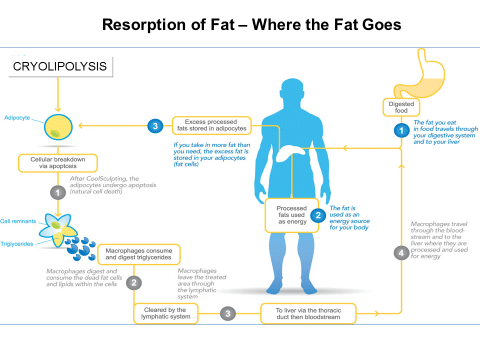 CoolSculpting® Can Target: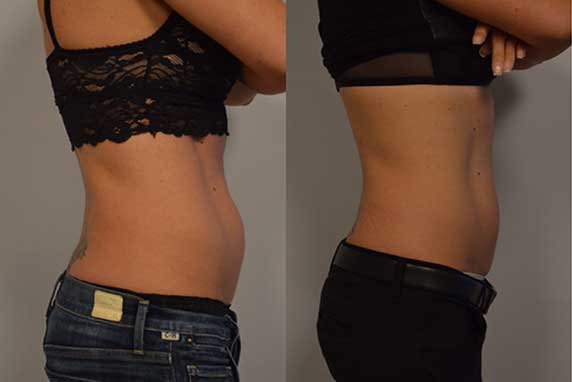 Love handles
Back
Abdomen
Thighs
Candidates
Good candidates for CoolSculpting® treatment are relatively fit and near their ideal body weight but have persistent fat bulges that are resistant to diet and exercise. Those who have fatty tissue along prime areas (the abdomen, back, thighs, and love handles) benefit most from CoolSculpting®. This procedure is designed to treat subcutaneous fat (the fat located between the skin and above the muscle) rather than deep visceral fat (the fat located beneath the abdominal muscle).
Many women who undergo CoolSculpting® have excess belly fat they have developed due to pregnancy, childbirth, or menopause. Patients should be in good health and have realistic expectations. Patients who have a rare blood disorder known as cryoglobulinemia or umbilical hernias should not undergo CoolSculpting®.
The Consultation
Dr. Persky will evaluate your target area(s) and help determine if CoolSculpting® is the right treatment for you. He will thoroughly examine your body and discuss your goals. Dr. Persky may suggest that patients who have an excessive amount of fat try losing weight before considering CoolSculpting® or consider surgical options of liposuction or tummy tuck. Dr. Persky will give you a treatment plan that will include overall sculpting of the area(s) that concern you.
Procedure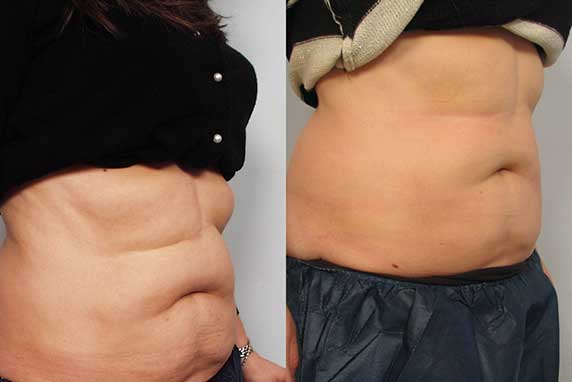 During the CoolSculpting® procedure, patients will be able to comfortably lie or sit down depending on the treatment area. Most of the target areas will need to be treated as two sides: the left and the right. The abdomen can be treated as one area. When treating the thighs, a customizable frame will be applied to the area where an applicator is securely snapped into place. The specially designed applicator and gel pad will be applied to each treatment area. The CoolSculpting® procedure safely delivers controlled cooling to gently and effectively treat the fat cells underneath the skin. The fat cells are crystallized (frozen), the crystals damage the fat cell membrane, and then the fat cells gradually die over time.
The fat cell remnants are cleared by the lymphatic system and filtered through the liver where they are either used as energy or redistributed throughout the body. CoolSculpting® is extremely safe; patients have had their blood work followed for up to 6 months after the treatment with no effect on liver enzymes, cholesterol, fat, or any other blood lab values.
Typically, the procedure takes one hour per area. There are different sized applicators to fit various parts of the body. Patients will feel an intense suction pinching feeling initially, but the area rapidly cools and is numb within five to 10 minutes. Some patients will feel pulling, tugging, and/or mild pinching from the handpiece that uses suction to draw out fatty tissue. Many patients read, listen to music, or work on their laptop, or just fall asleep during the treatment.
Recovery
Some patients may experience initial redness that lasts anywhere from a few minutes to a few hours. There may be some swelling, bruising, mild tenderness, cramping, or itching that can last for a few days. There is numbness in the treated area for a week or two that always returns to normal. Patients can resume work, exercise, and their normal routine immediately following the procedure.
Results
Most patients will see a noticeable reduction of fat and improvement in body contours within three weeks. Since the body takes time to metabolize and eliminate fat cells from the body, full results won't be apparent for about three months. The eliminated fat cells will be permanently destroyed and cannot return. Unfortunately, the remaining fat cells are capable of enlarging if caloric intake greatly exceeds the number of calories burned. Depending on the patient, one to four treatments may be necessary to achieve the desired results. Each treatment results in about a 20 to 25 percent reduction of fat from the targeted area. Patients will notice that their targeted bulges smooth out as the fat disappears. Some patients also experience a temporary decrease in the appearance of cellulite and a slight improvement in skin firmness.
Scheduling Your Consultation
Dr. Persky is an experienced and reputable facial plastic surgeon who has helped many patients achieve their cosmetic goals. Call our office in Encino today at (818) 918-9252 to find out how he can help you obtain the aesthetic you desire or to learn more about our financing options. You can also fill out our online contact form. 
If you are traveling from out-of-town, please call (818) 918-9252 and send an email to Bookings@DrPersky.com. Once your photos are reviewed, you will be contacted by the office. To make your visit as comfortable and convenient as possible, we have selected the best hotels in the Los Angeles, Sherman Oaks, Calabasas, Thousand Oaks, and San Fernando Valley areas. You can find the full list of recommended accommodations here.