Aging is an inevitable process and has a dramatic effect on our physical appearance, and the older we get, the more we strive to look as young on the outside as we feel on the inside. At-home anti-aging treatments and creams may help our skin look better but can't seem to prevent the aging process from continuing. Surgical procedures are excellent options for improving signs of facial aging, but they are more serious, involved procedures that require extended recovery time. Injectable treatments are not a permanent solution to removing wrinkles and fine lines, but they can temporarily fill in deep lines around the lips and between the mouth and nose. Research has proven that many injectable fillers such as Restylane® stimulate the body to produce natural collagen so that even when the product has been reabsorbed, there is lasting improvement in the injected area. Restylane® is one of the most popular injectable fillers that can beautifully restore volume and lift the facial skin to diminish the appearance of facial wrinkles. If you have any questions regarding this procedure, feel free to contact Dr. Persky office in Encino, San Fernando Valley, and Calabasas.
If you are interested in a Restylane® Procedure, please schedule your consultation with Dr. Persky by calling (818) 918-9252. Join our newsletter to receive special offers & promotions exclusively available for subscribers.
Restylane® Can Correct:
Nasolabial folds
Moderate to severe facial wrinkles
Bags under the eyes
Sleep lines along the cheeks
Fine lines around the mouth
Vertical lip lines
Thin, undefined lips
Temple hollowness
Candidates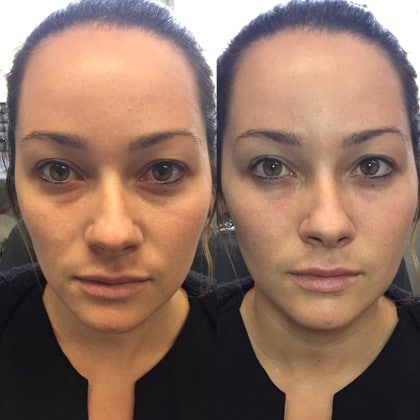 Men and women over the age of 18 who would like to target signs of facial aging may be good candidates for Restylane®. It is important that patients do not have any allergies to lidocaine local anesthesia or previous reactions to hyaluronic acid fillers. Potential patients should be in good health.
The Consultation
During your consultation, Dr. Persky will evaluate your facial anatomic structure and skin to determine if you are a good candidate for one of our Restylane® treatments. Based on the severity of fine lines and wrinkles in the target area(s), he will determine the proper treatment for your facial anatomy and aesthetic goals. Dr. Persky will perform a full-facial analysis, helping you learn more about your facial aging and how to maintain a younger, more rejuvenated and natural appearance. Various products may be offered, with each specifically designed to target certain problem areas.
Restylane® Products
Restylane®: Formulated to visibly correct moderate to severe facial wrinkles and folds, including the lines from the corner of the nose to the mouth (nasolabial folds). It can also be used for lip enhancement to provide more fullness and definition. Comprised of a clear gel formula of hyaluronic acid, Restylane® works by acting like the body's naturally produced hyaluronic acid, replacing volume that has been lost.
FDA approved new fillers: Restylane® Refyne and Defyne. The first is approved to treat moderate wrinkles and folds from the nose to mouth known as nasolabial folds and those from the corner of the mouth to the chin known as marionette lines. Dr. Persky especially likes this product for all around the mouth including smoker's lines. Whereas the latter is meant to plump and fill deeper-set lines. Refyne and Defyne are meant to give a more natural-looking result than previously thought possible due to its XpresHAn Technology™. It allows the hyaluronic acid gel to flex within the skin as you move your face, designed to help support your natural expressions. So whether you're smiling, frowning, puckering or wrinkling your face any which way, the result looks soft and natural. Results can last up to 12-18 months.
Restylane® Lyft (formerly known as Perlane-L®): Designed to add fullness to the cheeks and midface area. It is made of hyaluronic acid gel that is used to restore volume and treat wrinkles in the midface by reshaping the cheeks and lifting them into a more youthful position. It is a slightly thicker, more concentrated form of Restylane®.
Restylane® Silk: Uses smaller, smoother injections of hyaluronic acid particles with an ultrafine needle designed for accuracy and precision. Restylane® Silk can provide a patient with natural-looking lip enhancement, and it can also eliminate the appearance of fine lines around the mouth. Restylane® Silk can be injected very superficially without any signs of the bluish tinted discoloration (known as the Tyndall effect) that occurs when other hyaluronic acid products are injected too close to the skin surface.
Procedure
Restylane® is made of a non-animal stabilized hyaluronic acid, a natural substance found in all living cells. The treatment area(s) are cleansed and may be numbed with a topical gel before treatment. All Restylane® products have lidocaine local anesthetic mixed in. Few patients may require a dental anesthetic block when undergoing Restylane® lip treatments. Using a small micro-cannula or a thin micro-needle, the clear gel Restylane® formula is injected under the skin. The entire treatment process can be performed in-office in less than 15 minutes.
Recovery
After treatment, patients may reapply their makeup and resume their normal daily activities. Some patients may experience minimal swelling and redness for a short period of time. The filler is usually settled within 24 to 48 hours.
Results
Each Restylane® product is designed for a particular purpose. Overall, patients can achieve smoother facial skin that looks and feels younger. The length of your results will depend on the product administered.
Restylane®: Lasts up to 12 months. Follow-up treatments can be performed four to nine months after the initial treatment.
Restylane® Lyft: Lasts up to 12 months in the cheeks and six months for reducing facial wrinkles and folds.
Restylane® Silk: Lasts six to nine months.
Scheduling Your Consultation
Dr. Persky is an experienced and reputable facial plastic surgeon who has helped many patients achieve their cosmetic goals. Call our office in Encino today at (818) 918-9252 to find out how he can help you obtain the aesthetic you desire or to learn more about our financing options. You can also fill out our online contact form. 
If you are traveling from out-of-town, please call (818) 918-9252 and send an email to Bookings@DrPersky.com. Once your photos are reviewed, you will be contacted by the office. To make your visit as comfortable and convenient as possible, we have selected the best hotels in the Los Angeles, Sherman Oaks, Calabasas, Thousand Oaks, and San Fernando Valley areas. You can find the full list of recommended accommodations here.