Posted November 09, 2014 in Blog, Celebrity Plastic Surgery, Media Appearances, Uncategorized
It has come to my attention that I have appeared on the television show, "Botched" and as if that was not bad enough, I made the cut onto the "Botched Reunion" show! For those of you who do not know about the show, it features Drs. Terry DuBrow and Paul Nassif and their treatment of patients who have had plastic surgery that has been "botched." Forutunately, none of my patients have ever appeared on the show, though apparently I have.
Please let me explain. A few months ago while I was between rhinoplasty cases in the operating room, I received a phone call request from a friend who asked if she could film a video in my office as a favor. She had filmed in my office in the past, I said, "Yes." It turns out that the video being filmed was with three of her clients who have had plastic surgery to look like their idols, Madonna, Justin Bieber, and Jennifer Lawrence. After I completed my second rhinoplasty of the morning, I returned from the operating room to my office to find the film crew. My friend asked if I would "act" like I was treating the three plastic surgery want to lookalike "celebs". I was told that they were making a video for a German cable show. Unbeknownst to me, they were actually filming for their music video, "The Plastics", in which my office and I were included.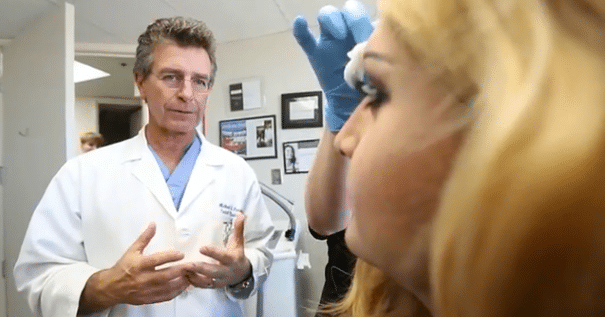 After the "success" of their music video (969,824 embarrassing views!), I assume their agent booked them an appearance on the TV show "Botched." That's where yours truly, Michael A. Persky, MD came to "appear" on the show. I believe that I may have injected 2 units of Botox as a favor in one of the lookalikes, but please know that I have had nothing to do with any of the surgeries or treatments that these patients have had.
I have heard from patients, friends, neighbors, family including my mother in-law about how Dr. Nassif stated, "I know this doctor and I am quite surprised that he did this, he is a very conservative physician." Well, Dr. Nassif was not as surprised as I was when I heard that I had appeared on his show and reunion show! Dr. Nassif and everyone else can rest assured that after over 25 years of practice, I am still a very professional, caring, and conservative facial plastic surgeon who uses natural artistic vision to help patients achieve their facial aesthetic goals. I believe that anytime the results of our work are obviously plastic or "botched", that we have failed our patient. Once again, I did not perform any of the surgeries of the patients who appeared on the show Botched, nor is it my personal aesthetic to create obvious plastic surgical looking patients. Likewise, I will not give patients the unrealistic expectations that I will make them look like celebrities of their choice.
I made the mistake in judgement of helping a friend with a favor, giving her a place to film her video, and giving in to her request to appear in it as well. It was done in fun, but has been wrongly percieved as otherwise. Thanks for listening to my tale of woe, and if by chance you should bump into my mother in law, please tell her that you know that Dr. Persky did not do any of the work on those celebrity lookalikes on Botched. Be well and remain unbotched!
Dr. Michael Persky and Dr. Sarmela Sunder are located in Encino, California and Beverly Hills, California but service all of Los Angeles and the San Fernando Valley. Including, Beverly Hills, Hollywood, Hancock Park, Brentwood, Santa Monica, Pacific Palisades, Malibu, Sherman Oaks, Studio City, Calabasas, Woodland Hills, Tarzana, Westlake, Thousand Oaks, Agoura Hills, La Canada, Pasadena, and more. Please subscribe to our blog by clicking the link above, right, and "Like" us on Facebook. Thank you!