Posted February 15, 2011 in Blog, Celebrity Plastic Surgery, Uncategorized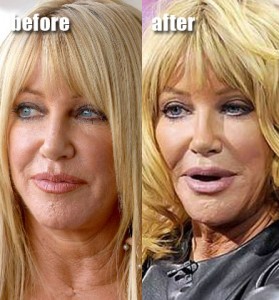 Around my office this week, the talk among my patients has been about Suzanne Somers face, and that talk has been "What did Suzanne Somers do?"  From the looks of it, it appears that she has had a great deal of volume placed into her face (perhaps it is still very swollen).  The most likely procedure is injection of fat (also called fat transfer, as well as the more trendy term "stem cell facelift"). 
Replacing volume in the face is a true art form.  Patients need to be carefully evaluated, diagnosed, and treated appropiately with the proper fillers by experienced and skilled physicians. 
After hatching from her egg at the 2011 Grammy Awards, Lady Gaga appeared to have strategically placed futuristic volume on her face.  Unlike Ms. Somers, Lady

Gaga's augmentation on her forehead and over her lateral malar bones (cheeks) was not permanent, but literally plastic.  I have not yet given anyof my patients the forehead pyramids that the Lady had, but we do often inject the lateral cheek area to give a more beautiful appearance.  Compliments to the Lady and her incredibly unique sense of style!
Lastly, in her recent movie Burlesque, the age defying Cher appeared appropriately volumized (is that a word that I can get by with in Scrabble?, I don't think so after spellcheck).   Cher has the proper type of filler, in the proper amount, in the proper places, in close to the proper proportions

(remember da Vinci's "Golden Ratio" of 1:1.7) in her face.  Kudos to Cher!  Her facial muscles appear to have great tone likely thanks to some type of galvanic electrical stimulation treatment.  Her use of skin care products and make up are icing on the cake.  Or, I may be completely wrong and she has not aged much since "I Got You Babe". 
Be well.
Dr Michael Persky is located in Encino, California but services all of Los Angeles and the San Fernando Valley. Including, Beverly Hills, Hollywood, Santa Monica, Malibu, Sherman Oaks, Studio City, Calabasas, Woodland Hills, Tarzana, Thousand Oaks, Agoura Hills and more