Rhinoplasty (Nose Surgery)
It has been said that rhinoplasty is the most difficult of all plastic aesthetic surgeries. For a patient, the most important aspect of their rhinoplasty is that they make sure to choose their surgeon carefully based on their knowledge, skill, care, experience, and natural artistic vision. The aesthetics of the nose define a person's appearance, shaping their character, attractiveness, and beauty. It reflects their family history, ethnicity, and culture. For many years, people from all different walks of life have been reshaping their nose, either for cosmetic reasons or to project their image or place in society. An ethnic nose can be maintained while removing specific undesired aspects.
The nose is the central feature of the face, so it is no surprise that rhinoplasty, or a nose job, has become vastly popular among different races, cultures, and genders. The central focus of a face is the eyes ("The eyes are the windows to the soul"). Since the nose can affect the symmetry of the face, rhinoplasty can be performed to change the shape, size, or profile of the nose to harmonize with the other facial features, paying particular attention to not drawing attention away from the eyes. Rhinoplasty can result in subtle or significant changes that can make a huge difference in the overall facial structure and appearance.
If you are interested in a Rhinoplasty Surgery, please schedule your consultation with Dr. Persky by calling (818) 918-9252. Join our newsletter to receive special offers & promotions exclusively available for subscribers.
What Can Rhinoplasty Address?
Rhinoplasty can correct: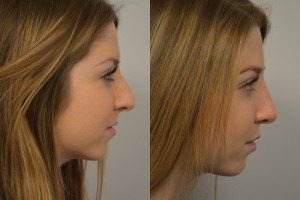 A deviated septum and associated breathing problems (septoplasty)
A crooked nose
A nasal tip that is enlarged, amorphous, bulbous, or drooping
A bump, hump, or depression on the bridge
Nasal asymmetry
Nose size that is unbalanced in relation to face size
Nostrils that are large or wide
Am I a Candidate for Nose Surgery?
Ideal candidates for rhinoplasty should be sure they want to have the surgery for the right reasons. They have given thought to changing the appearance of their nose for many years (except in cases of traumatic injury to their nose). They should be in good health and have realistic expectations about not only the degree of aesthetic improvement of their nose but also the fact that changing their nose will not change everything they dislike about their lives. It is important that the patient is specific about what they want to change about their nose and share their aesthetic and functional (nasal breathing) goals with their rhinoplasty surgeon. To get a clear idea about rhinoplasty and what you can achieve, schedule your consultation with Dr. Persky in Encino, the San Fernando Valley, and Calabasas to discuss your desired results.
The Consultation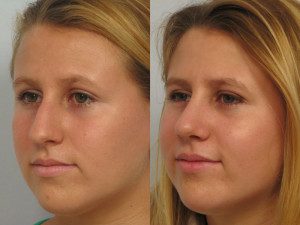 Good communication with your surgeon is an essential part of your consultation. Make sure you tell your doctor exactly what you don't like about your nose and what results you are hoping to achieve. At the time of your consultation, Dr. Persky will examine your nose internally and externally and then take photographs. He will use computer imaging to provide you with a better idea of how your results could look. You will also be shown before and after photos of previous patients. A customized rhinoplasty procedure plan will be created based on your anatomy, diagnosis, and aesthetic goals.
What Does the Rhinoplasty Procedure Entail?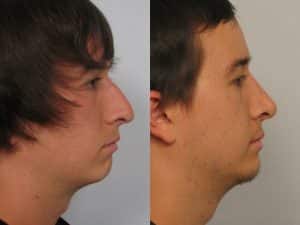 Rhinoplasty can be performed under intravenous (IV) sedation or a general anesthetic. The procedure is performed at a state-certified outpatient surgery center and takes between two and four hours, depending on the changes that need to be made to the nose. Dr. Persky is expert in both approaches to rhinoplasty. The surgery is either performed using the open surgical technique (a small, inconspicuous incision at the base of the nose) or the closed surgical technique (incisions within the nostrils). With both surgical approaches, part of the bone and cartilage can be removed to reduce the size of the nose, or cartilage grafts may be necessary to create a strong foundation for a narrow, ethnic, amorphous, crooked, traumatized nose (or for revision surgery). During your septorhinoplasty surgery, your nose is straightened and sculpted to the desired natural shape and any internal septal deviation is corrected.
How Long Is the Recovery?
From a patient's perspective, once the anesthesiologist gives the IV medication, it seems like you are asleep for a pleasant one-minute dream (Dr. Persky will tell you to think of your favorite places, people, or activities just before the sleep meds are given). After surgery, your nose will feel stuffy due to mucus and dried blood in the nose. A small moustache dressing gauze is taped under your nose and changed as needed for the first 24 hours. A splint and tape are placed on the nose to keep it straight, protected, and in place. Dr. Persky does not typically use uncomfortable internal gauze packing after rhinoplasty, allowing for a much more comfortable recovery period with less swelling and bruising. You will spend about 60 to 90 minutes in the recovery room, and then you will be able to return home with your designated driver.
For the first 48 hours, patients are instructed to keep their head elevated above the heart (rest and sleep on two to three pillows.) There is surprisingly minimal pain; however, TYLENOL® or a prescribed narcotic pain reliever can be used to alleviate any discomfort. Patients may feel like they have sinus pressure or a mild headache. Two to three days after surgery, the nose will be cleaned by Dr. Persky. The tape and splint will be removed five to six days after surgery. Patients should expect some bruising and swelling for the first seven to 10 days. Most physical activities may be resumed after three weeks.
What Are the Results After a Rhinoplasty Surgery?
The nose continues to heal for the first year after surgery, at which time the final result can be appreciated. However, the nose will continue to look better over the years as the skin thins and normal scar tissue fades away. Breathing may be difficult for the first few weeks but will become easier over time. Patients should see subtle changes that make a dramatic improvement not only in the nasal profile but also to the overall harmony of the face. Patients may also experience improved breathing through their nose.
Facial plastic surgeon Dr. Persky has been performing rhinoplasty for more than 30 years. His natural artistic vision, sculpting artistry, skills, and experience ensure that you are in capable hands when undergoing your rhinoplasty. Dr. Persky is also proud to announce that rhinoplasty specialist, Ari Hyman, MD, has joined us, bringing with him his state-of-the-art rhinoplasty techniques and natural artistic vision. Dr. Hyman trained with the world's top facial plastic surgeons in New York City and Chicago, including top rhinoplasty surgeon and professor, Dean Toriumi, MD. Our patients now have the benefit of two rhinoplasty experts.
Frequently Asked Questions
Can rhinoplasty correct sleep apnea or snoring?
Rhinoplasty or septoplasty can correct a deviated septum, which can contribute to sleep apnea and snoring. Many patients notice a drastic change in their breathing after undergoing surgery, which can reduce snoring and sleep apnea symptoms.
Will there be visible scars?
Your incisions are made inside the nostrils or on the thin tissue between the nostrils, which means that almost no scarring will be evident. The natural contours of your nose conceal scars, and cosmetics can further cover up the incision while you heal.
When can I resume exercising?
Your exercise routine should be light and gentle for the first three weeks after surgery. Dr. Persky will discuss appropriate exercises in further detail, along with providing post-operative care instructions.
How long do the results last?
Your long-term rhinoplasty results are considered to be permanent and should not change once the healing process concludes.
Scheduling Your Consultation
Dr. Persky is an experienced and reputable facial plastic surgeon who has helped many patients achieve their cosmetic goals. Call our office in Encino today at (818) 918-9252 to find out how he can help you obtain the aesthetic you desire or to learn more about our financing options. You can also fill out our online contact form. 
If you are traveling from out-of-town, please call (818) 918-9252 and send an email to Bookings@DrPersky.com. Once your photos are reviewed, you will be contacted by the office. To make your visit as comfortable and convenient as possible, we have selected the best hotels in the Los Angeles, Sherman Oaks, Calabasas, Thousand Oaks, and San Fernando Valley areas. You can find the full list of recommended accommodations here.