Posted November 25, 2019 in Neck Lifting
5 min read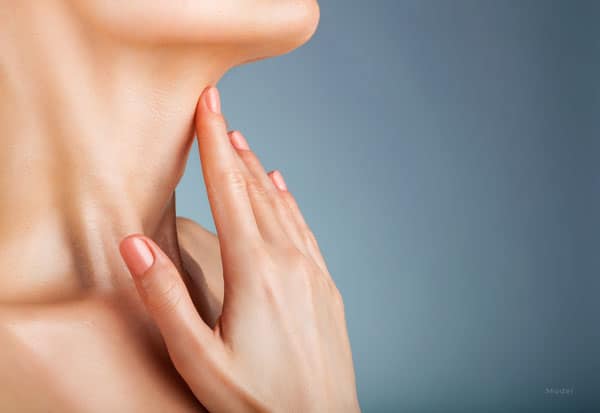 A firm neckline is more than just your neck skin.
Nora Ephron shared a very common feeling among many of the patients that we have seen in our practice over the years in her book entitled, "I Feel Bad About My Neck: And Other Thoughts on Being a Woman."
The jawline above and the décolleté below contribute to the neck's aesthetic, and when either of them shows laxity, patients find that they appear worn out and older than they are.
Skin laxity, vertical banding, and pockets of fat develop on the neck and jawline due to the natural breakdown of tissues, sun damage, the stress of constant movement, volume loss, and environmental factors.
Cosmetic surgery of the face and neck offers neck rejuvenation for any patient who is dissatisfied with the elasticity and firmness of their neck.
Dr. Persky, and his associate, Ari Hyman, M.D., perform a series of surgical and non-surgical procedures that target aging on the neck, jawline, and décolleté.
1. Facelift and Neck Lift
Facelift and neck lift surgeries are face and neck tightening procedures that address hanging skin on the neck.
These procedures treat the highest degree of facial and neck laxity.
They are accomplished through incisions on both sides of the face along the hairline and in front of the ear that are hidden in natural skin creases and are very difficult to see once healed. Our patients are able to wear their hair up without worries.
During this procedure, tissues are tightened on the lower face and neck, and sagging skin is eliminated. Face and neck lift surgery results in a smoother and tighter jawline and neck. We offer the latest face and neck lift techniques including mini-lifts, pony-tail lifts, deep plane, and temporal lifts, all of which can be combined with fat transfer and/or laser skin resurfacing at the same time.
2. Ultherapy®
Ultherapy® is a non-surgical neck rejuvenation treatment that tightens skin on the neck, smoothes wrinkles on the décolleté, and minimizes the appearance of jowls. Ultherapy results in an improvement of the skin tone, texture, and color as well.
This procedure uses micro-focused ultrasound energy to heat muscle and skin connective tissues, which stimulates and supports new collagen regeneration. Ultherapy® causes the tissues to strengthen and tighten and gives patients the appearance of a face/neck lift without undergoing anesthesia or surgery.
Ultherapy® is appropriate for patients with any level of neck laxity, but patients with mild to moderate laxity may see the best results. Ultherapy® is also extremely effective in treating patients who have had face/neck lifting in the past and wish to rejuvenate without further surgery.
3. Venus Freeze™/Venus Legacy™
The Venus Freeze™/Venus Legacy™ uses multipolar radiofrequency energy with electromagnetic pulses to heat the skin.
This process reduces fat and reduces wrinkles on the neck and décolleté.
The Venus Freeze™/Venus Legacy™ is a neck rejuvenation device that requires no downtime and causes little to no pain. It actually feels like a warm stone massage.
Results begin to show immediately and can be maintained with touchup treatments every two to three months.
4. Microneedling with PRP
Microneedling with platelet-rich plasma (PRP) is usually performed on the face to smooth lines and wrinkles, reduce acne scars, and improve the overall tone and texture of the skin.
This process creates hundreds of micro-wounds that stimulate a natural healing response and increase collagen production.
While microneedling may be more common for the face, it can be performed on the jawline, neck, and décolleté for non-surgical tightening.
5. Profound™ Lift
The Profound™ Lift combines radiofrequency and microneedling to target sagging skin on the neck.
This in-office treatment offers a non-surgical solution for a sagging neck by restoring collagen, elastin, and hyaluronic acid. The face and neck are numbed with local anesthesia, Profound RF is often combined with a light Fraxel repair (fractionated CO2 lasering) for optimal rejuvenation.
6. Silhouette InstaLift™
The Silhouette InstaLift™ tightens the deeper layers of the skin to reduce jowls and neck laxity.
This procedure uses minimally invasive techniques to insert bi-directional cones in the midface to minimize the appearance of jowls. The treatment is quick and easy with minimal downtime. A few blebs of local anesthesia are all that is needed to complete the Silhouette Instalift comfortably. The threads and cones that are used are absorbable, adding volume to the face. Results are seen immediately yet improve over the two months that the Sculptra like threads dissolve, replacing lost facial volume in needed areas.
By minimizing these jowls, the neck and face appear more sculpted and youthful.
7. KYBELLA®
KYBELLA® is a non-invasive injectable treatment that reduces or eliminates a double chin.
Submental fullness is genetic or can develop with age and weight fluctuations.
The localized fat beneath the chin alters the appearance of the face and neck and makes many individuals self-conscious about its appearance.
The KYBELLA® injectable contains molecules that break down and absorb fat cells. The fat cells destroyed through this process are naturally and permanently eliminated.
Most patients require a series of KYBELLA® injections, but once this series is completed, the results are long lasting or permanent.
8. Liposuction of the Neck
The neck develops excess, localized pockets of fat, just like any other body area.
Liposuction of the neck surgically removes this excess by suctioning out the fat cells. Incisions are made in the neck area, but these are small and unnoticeable after they have healed. The neck is taped for five days during which time the excess neck skin heals and adheres down to the underlying muscle creating dramatic rejuvenation outcomes without excising any skin.
9. Mentoplasty
Mentoplasty, or chin surgery, adds definition to the chin, which affects the appearance of the neck. Strengthening or reducing the chin creates a separation between the neck and face, which contributes to a youthful profile.
10. Jawline Fillers
Fillers may be used along the jawline and in front of the ears to define the neck and jawline, hiding jowls. This treatment is quick and easy, restoring youthfulness in minutes without any downtime.
To Find Out More
For more information on these procedures or to find neck rejuvenation near you, contact Dr. Persky by calling (818) 918-9252 or by filling out our online contact form.
Dr. Persky is a facial plastic surgeon helping patients in Encino, Calabasas, and the San Fernando Valley.