Posted January 21, 2019 in Fraxel Laser Treatment
Fraxel® DUAL is a non-ablative fractionated laser that combines two lasers, an Erbium (for collagen stimulation and wrinkle reduction) and a Thulium (for brown spot reduction), to produce optimal rejuvenation effects. The laser heats the skin in pixilated columns to stimulate collagen stimulation over time, which results in a reduction of fine-to-moderate lines and wrinkles as well as improved skin pigmentation, tone, and texture. The older Fraxel® laser required a series of four to six treatments at two to three-week intervals, but the DUAL has been modified to be faster, more effective, and more comfortable. Usually, Fraxel® DUAL patients require three instead of four treatments, though excellent results are seen after just one treatment. This laser is also appropriate for the treatment of acne and scars.
If you are interested in a Fraxel laser procedure, please schedule your consultation with Dr. Persky by calling (818) 918-9252. Join our newsletter to receive special offers & promotions exclusively available for subscribers.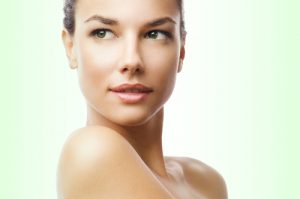 Benefits of Fraxel® DUAL
Treatment is 25 percent faster than older Fraxel® technologies
Improved comfort as a result of the integrated Zimmer cooling device
Groundbreaking pigment eradication
Little-to-no topical anesthesia required for treatment
Stunning results with minimal-to-no downtime
Safe for all skin types
How does Fraxel® DUAL work?
Fractional laser resurfacing with Fraxel® DUAL targets a fraction of the dermis (skin) with the laser, leaving the majority of the dermis unaffected. Typically, depending on the patient and goal, anywhere from 20 to 70 percent of the skin's surface is treated through microthermal zones (MTZ's), which are columns of heated tissue that are about 1/10th the diameter of a hair. By only addressing a small area of the skin, the laser can penetrate deeper, and this results in minimal downtime and risks, which leads to an enhanced treatment experience.
Non-ablative vs. Ablative Lasers
Non-ablative resurfacing is a gentle yet effective approach to skin rejuvenation. The Fraxel® DUAL laser is an Erbium laser that is equipped with cooling technology to reduce the risk of damaging the surrounding tissue. In contrast, ablative treatment with a CO2 laser vaporizes and removes tissue. This method usually necessitates a lengthy recovery period. Typically, non-ablative resurfacing requires multiple sessions but requires minimal downtime, if any.
Fraxel® vs. IPL Treatment
In regards to addressing pigmentation issues, treatment with intense pulsed light (IPL) is limited to cases where there is a severe difference in the target area and surrounding skin. Patients who wish to correct discoloration that is close in color to their natural skin tone cannot benefit from IPL treatment. The Fraxel® DUAL, however, is ideal for all skin tones. This technology works by going down to the layer of skin where the abnormal pigment is so that it can be renewed and resurfaced. IPL can take up to four treatments to remove pigment whereas DUAL should only take one or two treatments. IPL treatments can create a permanent imprint tattoo that is difficult to conceal. The biggest advantage of Fraxel® DUAL laser over IPL is the much longer lasting result. Another benefit of the Fraxel® DUAL treatment is that it tends to be more comfortable for patients.

What can Fraxel® Dual laser resurfacing treat?
Patients may consider Fraxel® DUAL laser resurfacing to improve the appearance of the skin on their face, chest, or anywhere else on the body. The use of two wavelengths in a single treatment delivers faster and more noticeable improvements to the following skin concerns:
Pigmentation: melasma, hyperpigmentation, lentigines (sun damage), actinic keratosis, unwanted freckles
Texture: scars (traumatic, acne, or surgical), stretch marks, burns
Signs of aging: sun spots, age spots, fine lines, wrinkles, enlarged pores
What does treatment with Fraxel® Dual laser entail?
Preparation
Dr. Michael A. Persky sees his Fraxel® laser patients during the week before their appointment to educate them about the procedure. Patients are asked to avoid excessive exposure to the sun or tanning beds for a few weeks prior to their treatment and to avoid anything that is abrasive or irritating to the skin, such as the use of exfoliating products, Retin-A®, or peels.
Procedure
First, the skin is cleansed to minimize the risk of infection or irritation after the procedure. A topical anesthetic is applied for one hour before treatment to ensure total patient comfort. Treatment with Fraxel® DUAL takes approximately 20 to 25 minutes for the face, but larger target areas will require more time. Most patients report feeling a heating sensation, but the procedure is unlikely to cause discomfort.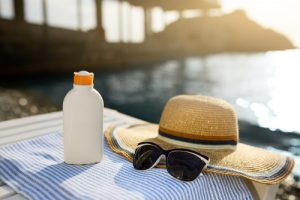 Aftercare
Some pinkness and mild swelling, similar to that of a sunburn, is expected for about three days after the treatment. There is no wound care and no dressing changes needed. The treated skin will feel dry, so it is recommended that you apply a moisturizer such as SkinCeuticals Hydra-Balm or Epidermal Repair, Cetaphil®, or Aquaphor®. After a few days, the skin will bronze and feel rough to the touch, indicating that it is ready to begin peeling. The peeling process takes about three days. Afterward, the treated area will appear refreshed and pink, returning to its natural color in about one to two weeks. By day 10, patients often look like they have makeup or powder on because of the uniform color of their skin.
What results can I expect after Fraxel® DUAL treatment?
The longevity of the results after Fraxel® DUAL laser resurfacing depends on the individual healing of the patient, sun protection habits, and, for those treating melasma, the patient's hormone levels. It is recommended that patients use protective clothing, accessories, and sunblock lotion regularly to maintain results. Most Fraxel® DUAL patients are delighted with their fresh new skin and enjoy long-lasting rejuvenation effects.
To obtain treatment that addresses your unique needs and cosmetic desires, you should speak to a board-certified plastic surgeon with extensive experience in facial rejuvenation. For more information about laser resurfacing and other procedures, please contact the office of Dr. Persky by calling (818) 501-FACE