Posted April 15, 2020 in Microneedling
3 Minute Read: 
Collagen induction therapy, more commonly known as microneedling, has become increasingly popular in the past few years. This procedure achieves dramatic, long-lasting results while having the benefit of being a minimally invasive procedure.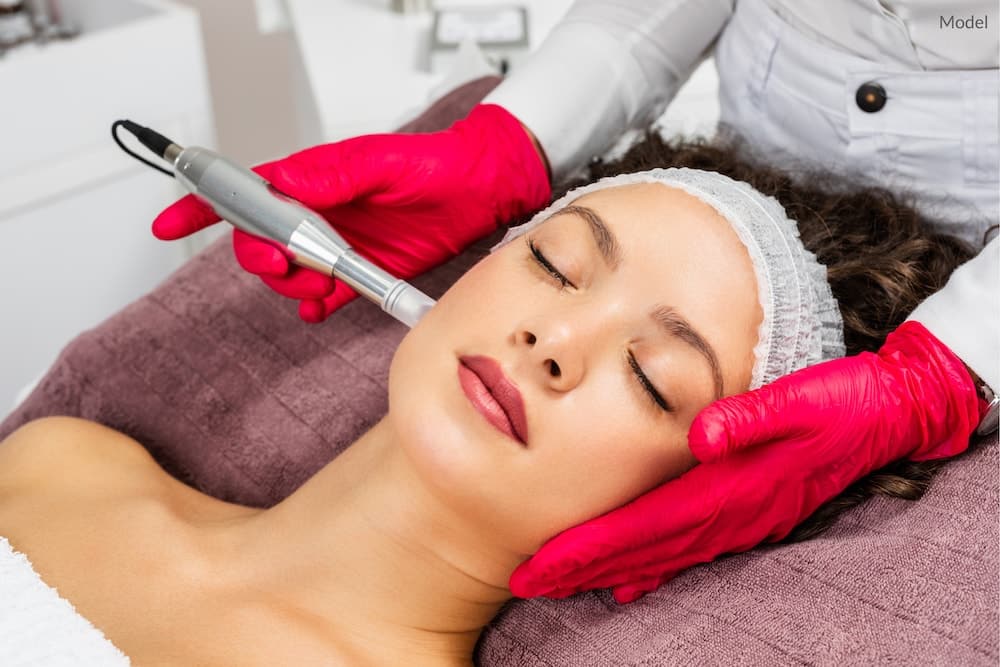 While microneedling alone produces significant improvement, the newest trend in microneedling is taking those results up a level. This trend is microneedling with PRP.
What Is Microneedling With PRP?
Microneedling is a procedure where fine, short needles are used to create micro-openings in the skin that stimulate rejuvenation. The body's natural response to these tiny microscopic skin pricks is to produce higher collagen and elastin stores, reducing or removing scars and improving overall skin health (texture, tone, and color.)
More recently, plastic surgeons have started to incorporate Platelet-Rich Plasma (PRP) into the microneedling process. PRP uses the patient's blood to help rejuvenate the skin. After the wounds are created, the platelets are applied to the skin and are absorbed through the newly created microscopic openings, resulting in more effective microneedling.
PRP is a derivative of your blood, and when it is extracted from the red blood cells, contains a high amount of proteins, such as cytokines and growth factors. PRP stimulates and attracts repairative stem cells to the skin dermis. Growth factors and stem cells help your skin repair itself and strengthen the tissue for lasting rejuvenating results.
What Are the Results of Microneedling With PRP?
One 2008 study found that after four microneedling sessions (over six months), individuals saw a 400 percent increase in collagen and elastin production. And a 2016 study comparing microneedling results to microneedling with PRP found that the PRP patients saw 16 percent better outcomes for their acne scars.
Some of the potential results of microneedling with PRP include the:
Reduction in fine lines and wrinkles

Improvement of skin tone and texture

Smoother skin

Minimization of scars (both acne and surgical)

Lightening of stretch marks

Repair of sun damage

Reduction of hyperpigmentation

Reduction of large skin pores
What Are the Benefits of Microneedling With PRP?  
Microneedling with PRP is a minimally invasive procedure that is virtually painless, as a soothing numbing gel is applied before the procedure begins. Patients will experience some redness, but this should subside within four to five days, and with regular treatments, the results can be long lasting. 
In general, patients are recommended to come in for follow-up treatments a couple of times a year.
Patients will have younger-looking skin that is tighter and smoother, with a reduction of imperfections.
What Is Medi-Inject, The Brazilian Skin Boost?
Medi-Inject takes micro-needling to a new and improved level. Like micro-needling, Medi-Inject uses multiple tiny needles, but we are able to inject a personalized "cocktail" of PRP, BOTOX® Cosmetic, hyaluronic acid filler, skin lighteners, vitamins, and even stem cells into the dermis at the precise level of maximum effect. Dr. Persky has given this treatment the name Brazilian Skin Boost (BSB.) The skin is numbed with topical anesthetic for one hour—the treatment itself takes about 45 minutes. There can be minimal swelling and superficial bruising for a few days.  This treatment is great for fine, crepey lines of the face, neck, and decollete and those pesky "neck ring lines" that have been difficult to treat in the past.
Interested in Learning More?
Book your first consultation with Dr. Persky to see if microneedling with PRP or The Brazilian Skin Boost is the right choice for you. Dr. Persky specializes in facial treatments to give patients the confidence they deserve. Contact the office today by calling 818-918-9252 or filling out our online contact form.