Posted October 19, 2017 in Venus Freeze™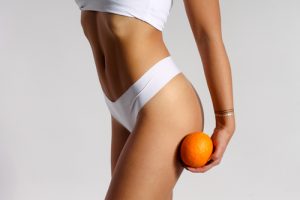 Many people suffer from cellulite, which is the lumpy, bumpy, dimpling deposits of fat on the thighs and buttocks that are tethered down to the skin by tenacious fibrous bands. Cellulite results in an uneven and unattractive appearance of the overlying skin. Often referred to as "cottage cheese" or "orange peel," cellulite can be one of the most challenging flaws to target on the body. Many creams are marketed towards eliminating the appearance of cellulite, but they typically produce little to no results.
Despite a great, healthy diet and proper exercise, though a person may lose weight, they will often be left with unflattering dimpled cellulite on their thighs. Some people might think about plastic surgery procedures such as liposuction. Liposuction may help to get rid of stubborn pockets of fat, but it does not eliminate cellulite. Venus Freeze™/Venus Legacy™ is a safe and effective non-invasive device that helps eliminate cellulite while also decreasing excess fat.
How Does Venus Freeze™/Venus Legacy™ Work?
Venus Freeze™/Venus Legacy™ is a non-surgical, non-invasive treatment that uses multipolar radio frequency plus electromagnetic pulses to create a heating matrix to tighten the skin. First, a gel is applied to the skin to protect it from the heat. An applicator is then used to smooth the skin surface. During treatment, patients will experience pulsating suction that many have described as similar to a hot stone massage. The electromagnetic fields and radio frequency waves create heat that is gentle enough to treat the skin from the inside out without causing any bruising or burning.
What Can Venus Freeze™/Venus Legacy™ Treat?
Venus Freeze™/Venus Legacy™ can improve a person's body shape and skin tone. Patients who are in good health and have realistic expectations can undergo Venus Freeze™/Venus Legacy™ to correct lax skin, cellulite, and stubborn fatty deposits in the following areas:
Upper arms
Abdomen
Buttocks
Thighs
Knees
Neck
Décolletage
How Long Is the Treatment?
Patients can achieve skin tightening in addition to wrinkle and cellulite reduction during this quick, 15- to 20-minute treatment. Most patients will need six to eight treatments that are spaced one week apart. The outcome following Venus Freeze™/Venus Legacy™ treatment is long lasting. Patients should maintain results with diet and exercise. Repeat single maintenance treatments are recommended once every three to four months depending on your unique needs. Be well!
If you have cellulite that you would like to target, Venus Freeze™/Venus Legacy™ may be the right treatment for you! You can schedule a consultation with board-certified plastic surgeon Dr. Persky by calling (818) 501-FACE or by filling out our online contact form.