Posted July 13, 2017 in Profound™ Lift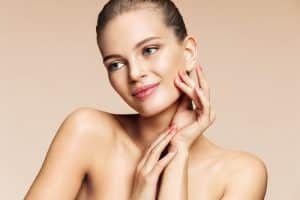 Even the healthiest of individuals will eventually face the inevitability of aging. Fine lines, wrinkles, and facial creases can form, making someone appear tired, worn out, and older than they truly are. Some people may consider surgery when at-home treatments have failed, but others may be cringing at the idea of surgical knives, a long recovery, and scarring. Thankfully, surgery is not a person's only option for reducing signs of aging. Profound™ Lift is one of the latest innovations offered by Dr. Persky. The Profound™ Lift treatment can be used to treat sagging skin on the face and neck and to lift the forehead, reversing years of aging indicators using micro-needling and radiofrequency technology.
How Does the Profound™ Lift Technology Work?
The Profound™ Lift targets signs of aging by restoring elastin, collagen, and hyaluronic acid. Sterile micro-needles are applied one to two millimeters below the surface of the skin, heating the dermis to 67 degrees Fahrenheit for exactly three seconds. Five sets of paired needles work together through electro- and thermo-couplers to help to ensure a safe, efficient, and precise treatment. This process creates micro "injuries" under the skin's surface, helping to trigger collagen, elastin, and hyaluronic acid synthesis. The procedure can be completed in 30 to 90 minutes in the office under local anesthesia.
Patients will notice their skin is firmer, smoother, and younger looking; the tone, texture, and color of the skin will all be markedly improved. Any scars or irregularities of the skin will also be improved. Results may be seen within two to three weeks following the Profound™ Lift treatment, with "profound" results usually within three months and continued improvement over the next six to nine months. Our patients enjoy the gradual improvement over time along with compliments from friends and family on how great they look.
Profound™ Lift Combined With Platelet-Rich Plasma (PRP)
Profound™ Lift can also be combined with platelet-rich plasma (PRP) for optimal results. A collection of the patient's blood is used to activate the cells, helping to rejuvenate the skin. The process works by collecting the blood using a centrifuge to separate the plasma and platelet portion by applying a special gel as a filter. The plasma serum, which is rich in platelets and growth factors, is then applied to the skin after micro-needling. Additionally, PRP is injected back into the patient's skin to help stimulate collagen production and re-energize the cells. Patients who add PRP to their treatment have been found to have less bleeding, bruising, and swelling in addition to better overall rejuvenation.
What Can the Profound™ Lift Target?
The Profound™ Lift treatment provides results that most closely resemble the results of a facelift compared to any other non-surgical device, but the Profound™ Lift provides these results without surgery. It is a non-surgical treatment that aids in restoring collagen, elastin, and hyaluronic acid to improve the skin tone, texture, and color. It can help to target:
Saggy, loose, hanging facial skin
Heavy eyebrows
Acne scarring
Cellulite
Fine lines and wrinkles
Who Can Benefit From the Profound™ Lift Treatment?
Patients who want to improve the appearance of their facial skin can benefit from the Profound™ Lift treatment. Patients should be in good health, have realistic expectations, and want to correct signs of aging. The best way to find out if Profound™ Lift is right for you is to schedule a consultation with Dr. Persky. He can provide you with a skin evaluation to determine if Profound™ Lift will help you to achieve your goals.
If you want a more youthful look without going near an operating table, Profound™ Lift could help you look younger and more rejuvenated. Schedule your consultation with Dr. Persky today! Contact us by calling (818) 501-3223 (FACE) or by filling out our online contact form.