Posted February 20, 2017 in Blog, Botox and Facial Fillers, Fraxel Laser Treatment, Non-Invasive Treatments and Procedures, Non-Surgical Treatments, Ulthera, Uncategorized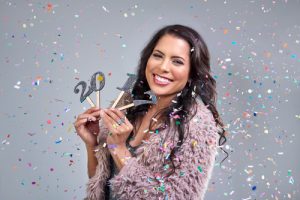 The new year is here, and many of you have been making resolutions for a "better you" in 2017. With a new wave of non-surgical treatments, many people can meet their goals this year without ever going near an operating table. Dr. Persky offers a variety of facial procedures that are less invasive so you can glide through your year with a fresh face forward with little or no downtime. Surgery can be scary, and with so many plastic surgery horror stories out there, more people are opting for non-invasive or minimally invasive treatments. Without incisions, general anesthesia, IVs, and long recoveries, patients can achieve smooth, youthful, and natural results with less downtime and pain than surgery.
Turn Back the Hands of Time With Ultherapy®!
When wanting to pull back and tighten the facial skin, many people think about facelift surgery. However, having to deal with general anesthesia and incisions can be daunting. Thanks to the latest advancements in non-invasive technologies, patients can revert to their "younger years" without extensive surgery and surgical pain. Ultherapy® uses micro-focused ultrasound technology to tighten the facial muscles and skin while also smoothing wrinkles and fine lines. Dr. Persky performs Ultherapy® in-office with or without local anesthesia depending on patient preference. It takes about 75 minutes, usually no downtime, and lasts for years.
Ultherapy® Can Correct:
Aging Neck

Aging Face

Fine lines and wrinkles

Drooping eyebrows

Loose skin under the chin

Sagging jowl lines

Creases and wrinkles of the décolletage
Restore Damaged Skin and Brown Spots With Fraxel®
Laser therapy has come a long way, and patients can achieve clearer, more youthful facial skin with minimal downtime and discomfort. Fraxel® uses laser-light energy to rejuvenate the skin. Fraxel® is a very tolerable laser treatment that uses cool air to make the skin comfortable. Most patients say it feels like warm little pins running over the skin.
Dr. Persky offers different Fraxel® treatments designed based on the severity of correction required and the area of the face needing to be addressed:
Fraxel® re:store
This non-ablative laser (the "original" Fraxel®) uses microscopic columns of heat to treat a fraction of the skin without damaging the surrounding tissues. Fraxel® re:store can target fine lines, uneven skin tone, scars, and age spots. Typically, Fraxel® re:store requires a series of treatments with each treatment spaced two to three weeks apart to achieve maximum results.
Fraxel® DUAL
Known as the "brown spot laser," this non-ablative thulium laser reduces treatment time by 25 percent and allows the skin to be chilled directly as it is treated, offering a comfortable experience for patients. Fraxel® DUAL can treat brown spots, hyperpigmentation, actinic keratosis, fine lines, and wrinkles. Fraxel® DUAL can achieve excellent results with a single treatment.
Fraxel® re:pair
The top ablative fractionated carbon dioxide laser resurfaces the skin while lifting and tightening. It can be used on any part of the body and can be used to treat all but the darkest of skin types. Fraxel® re:pair helps to diminish fine lines, wrinkles, loose skin, crepey skin, and scars (surgical, acne, and burns). Excellent results are obtainable with a single Fraxel® re:pair treatment.
Remove Fine Lines and Wrinkles With Injectables
Among the most notable signs of aging are fine lines and wrinkles. Even with a healthy skin care regimen and a healthy diet, the aging process will eventually take hold. Signs of aging develop, and many people try at-home treatments to no avail. Injectables are a quick, safe, effective, and easy solution to fighting these aging indicators. Dr. Persky offers several different options to meet every individual's goals and facial anatomy. Patients can undergo one or a combination of the following injectable treatments based on their needs and Dr. Persky's artistic vision:
Neuromodulators
Made of botulinum toxin type A, a purified substance derived from bacteria, BOTOX® Cosmetic, Dysport®, and XEOMIN® work by temporarily blocking muscular nerve signals and preventing the weakened muscles from contracting. Neuromodulators can target:
Crow's feet

Drooping eyebrows

Forehead "angry" lines

Horizontal forehead lines

Jawline jowling

Neck bands

"Bunny" lines at the top of the nose
Restylane®
Composed of a clear natural gel formulation of hyaluronic acid, Restylane® works by adding volume and stimulating the body to produce natural collagen to erase moderate to severe facial wrinkles. Restylane® can target:
Nasolabial folds

Fine lines around the mouth

Hollows under the eyes

Vertical lip lines
RADIESSE®
Made up of calcium hydroxylapatite (CaHA) microspheres in an aqueous gel carrier, RADIESSE® works by adding volume as well as stimulating the body to produce its own collagen. RADIESSE® is ideal for restoring volume loss that causes wrinkles and hollows around the mouth and on the cheeks, temples, jawline, and aging hands. It is excellent for chin augmentation.
BELOTERO BALANCE®
BELOTERO BALANCE® is a thin hyaluronic acid (HA) formula that completely integrates into the tissues, blending with the natural structure of your skin. BELOTERO BALANCE® is best for adding definition around the edges of the lips and improving fine superficial facial lines. It is an excellent "gateway" treatment for those who want a very conservative treatment that is not too long-lasting.
As with any facial aesthetic treatment, the most important aspect of your treatment and ultimate success is your injecting physician. Make sure to choose your treating aesthetic physician most carefully based upon his or her skill, knowledge, experience, and most importantly his or her natural artistic vision.
The increasing popularity of non-surgical facial rejuvenation continues to grow. More patients are seeking non-surgical options for creating a more youthful appearance. Dr. Persky can help you to start the new year with a fresh face by personally tailoring each procedure to your unique facial anatomy and goals. Schedule your consultation today! Contact us by calling (818) 501- FACE or by filling out our online contact form.