Posted July 31, 2019 in CoolSculpting, Fraxel Laser Treatment, Juvederm, Non-Invasive Treatments and Procedures, Non-Surgical Treatments, Ulthera, Voluma
When age catches up with us, one of the first noticeable signs of aging is on the face; a drawn-out, gaunt look with hollowed-out features can appear. As a result of facial volume loss, light reflecting on the face creates shadows and highlights that age us. Facelift surgery in Los Angeles can take care of the problem, but many have reservations and fear of going under the scalpel. Below we will discuss what contributes to facial aging and how to address these concerns without undergoing a surgical procedure.
Loss of Facial Volume With Aging
The loss of facial volume is thought to be the main reason for the signs of aging. Many factors can contribute to aging, such as genetics, your environment and lifestyle, diet, gravity, and other factors.
Fillers can restore natural volume and contour, and is now preferred more often by many patients. Well placed facial fillers smooth the natural transition areas of the face, minimizing the harsh shadow/highlight contrast of aging, restoring natural, pleasant, and youthful facial curves.  There will always be a place for surgery, but many aging faces can now avoid the risks of anesthesia and operation and appear refreshed without being cut.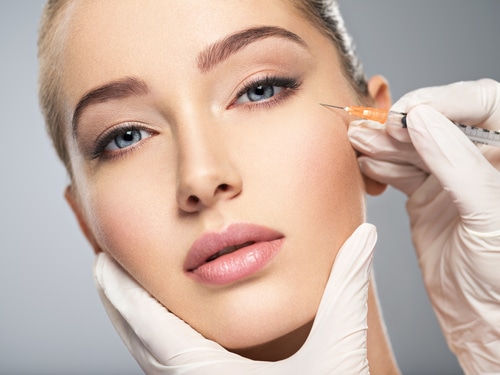 What Non-invasive Treatments Are Available?
The current demand by patients for non-invasive, non-surgical treatments to rejuvenate their face has resulted in treatments that are addressing their wishes. Though Dr. Michael Persky and Dr. Ari Hyman offer world-class traditional facial plastic surgery procedures, such as rhinoplasty (nose surgery), rhytidectomy (facelifting), and blepharoplasty (eyelid surgery), they pride themselves on being at the forefront of what's hot in the popular non-surgical treatment world.
Sculptra® Aesthetic, JUVÉDERM®, VOLUMA®, Restylane®, RADIESSE®, and neuromodulators, such as BOTOX® Cosmetic, Dysport®, and JEUVEAU®, are used to strategically recreate the oval, heart-shaped, ogee curved facial appearance of natural youth. The ogee curve is the pleasant, soft S-shaped contour when the area from the lateral brow, eye, and cheek to the corner of the mouth is viewed from an oblique (¾'s) angle.
The successful use of non-invasive therapy combines methods that treat both the external skin as well as the underlying facial and neck muscles. Our philosophy is to maximize the quality of your skin with the best scientifically proven effective skincare treatments and products including SkinMedica®, O2 Intraceuticals, and PURIGENEX™ facial collagen masks, along with personalized skincare regimens recommended by our talented, licensed aesthetician.
What Is JUVÉDERM VOLUMA® XC?
Some individuals wish to have a filler treatment that is long-lasting (1 ½ to 2 years) without substantial downtime and being away from work for an extended period. For them, treatment with JUVÉDERM VOLUMA® XC in Los Angeles is the best solution.
What to Expect After VOLUMA® Injections
VOLUMA® is an injectable filler designed to add volume to the face, resulting in a plumped, younger appearance. The injection is given deep to facial muscles over bones, and should only be conducted by a facial plastic surgeon with in-depth knowledge of the facial anatomy and a sense of natural artistic vision.
VOLUMA® injections take about ten minutes to significantly rejuvenate the face. One treatment session restores natural beauty by lifting the cheeks, decreasing under eye hollowness, lifting nasolabial folds (laugh lines) and the corners of the mouth, improving the jawline, as well as lifting jowls. VOLUMA® is the longest lasting of non-permanent facial fillers. Patients love the natural look achieved, and will often return before special events, occasions, or holidays for a "pick-me-up."  Like the saying goes for Jello, "There's always room for a little more VOLUMA®!"
VOLUMA® Post-Treatment
Patients may experience mild swelling and minimal if any bruising after VOLUMA® treatment. In extremely rare cases, bumps or lumps can develop. Your post-care instructions typically advise avoiding rubbing the injection locations and exposure to direct sunlight for the first 24 to 48 hours.
What Is Ulthera®?
A panel of expert Ulthera® users, including Hema Sundarum, MD, Julius Few, MD, FACS, Andrew Campbell, MD, FACS, and Brian Biesman, MD, shared their overwhelmingly positive clinical experience with Ulthera® over the past two years.
Ultherapy® by Ulthera® uses ultrasound technology to visualize the anatomy of the face, neck, and periorbital area around the eyes and brows to target ultrasound energy at both muscle lining and skin to tighten and lift the previously mentioned areas. Once the outer covering of the face and skin has been firmed up and buffed, it is then ideally primed and ready for the replacement of lost facial volume with facial fillers.
Thanks to the dedicated work and artistic vision of pioneers, such as Val Lambros, MD, FACS,  Joel Pessa, MD, FACS, Rod Rorhich, MD, FACS, Danny Vlleggar, MD, Rebecca Fitzgerald, MD, and others, thoughts about facial aging, beauty, and facial rejuvenation have drastically changed recently.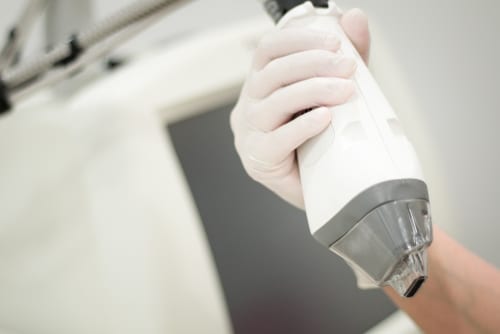 Ultherapy® vs. Fraxel®
Fraxel® Dual and Fraxel® Repair fractionated laser treatments are used to buff the skin to improving crepey neck and facial skin, revealing a smoother, more even complexion.
Ultherapy® uses an ultrasound energy source to tighten and lift while also improving the tone, color, and texture of the skin.
What Is CoolSculpting®?
For those who wish to rid themselves of that troublesome bulge of fat that refuses to budge with diet and exercise, there is CoolSculpting®. CoolSculpting® ingeniously freezes unwanted fat bulges of the abdomen, love handles, back, and inner thighs, decreasing the fat layer by 20 to 25 percent per treatment session.
Lastly, we have heard of trials with promising cellulite treatment, Cellulaze™, which combines two laser wavelengths with contoured rollers and vacuum suction to get a 97 percent patient satisfaction rate after one year, according to Barry DiBernardo, MD, FACS.
What is Emsculpt®?
Emsculpt® builds muscle and reduces fat, using electromagnetic energy stimulate muscle contraction supra-maximally. Treatment results in a 16-19% increase of muscle mass and a 19% decrease of fat after a series of four 30-minute treatments over two weeks.  Emsculpt® is used on the arms, legs, abdominals, and buttocks. Emsculpt® and CoolSculpting® are often used in conjunction to get our patients' beach body ready.
Choosing Your Treatment
Dr. Michael Persky is located in Encino, California, servicing all of Los Angeles and the San Fernando Valley, including Beverly Hills, Hollywood, Hancock Park, Brentwood, Santa Monica, Pacific Palisades, Malibu, Sherman Oaks, Studio City, Calabasas, Woodland Hills, Tarzana, Westlake, Thousand Oaks, Agoura Hills, and more locations.
Next time you consider facelift surgery in Los Angeles, consult Dr. Persky to see if non-surgical facial rejuvenation can turn the clock back in time to help you achieve the elusive ogee curve. View our video gallery to see some options to accomplish your desired results.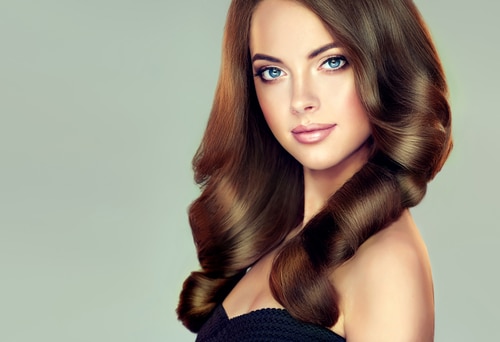 Contact our office by calling 818-918-9252 or by filling out our contact form.