Posted August 31, 2023 in Non-Surgical Treatments
6 Minute Read: 
I was speaking with Sophia in the dog park for the first time when what I did came up. "I'm a facial plastic surgeon, and I have limited my practice to non-invasive facial aesthetics and a few surgical procedures performed without general anesthesia." She replied that she can always tell when anyone has had anything done — no matter how little. Always! 
I shook my head, and she said, "Unless you are really that good."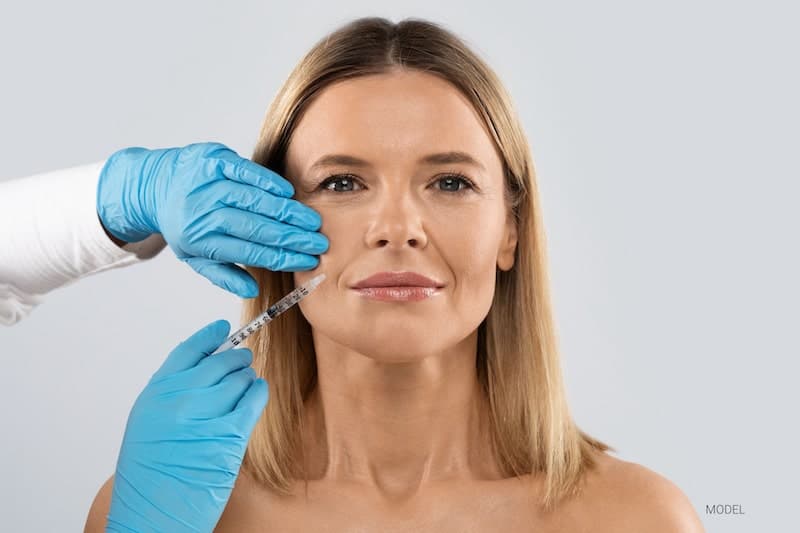 Technical skill, anatomical knowledge, experience, training, and care are important, but artistic vision is the most crucial aspect of natural results. There can be technical success (that is, anyone can technically inject a filler), but without natural artistic vision, there will be aesthetic failure. 
Choose your treating injectable physician very carefully!
I have the privilege of helping my patients achieve and maintain their facial aesthetic goals over time. We are blessed with so many great products that enable an expert to create natural beauty safely and effectively, from bio-regenerative injections (platelet-rich fibrin plus albumin, EZ Gel that is all-natural from patients blood, and hyperdilute RADIESSE® which acts a biostimulator) to all the dermal fillers on the market. 
As far as non-surgical aesthetic treatments are concerned, injectable dermal fillers are some of the most diverse and effective products for facial rejuvenation. 
As they grow in popularity, some people wonder just how good they are. Although they are a temporary treatment, dermal fillers can address facial concerns that even surgical procedures cannot, making them a fantastic choice for those looking to revitalize and enhance their face — alone or after surgical treatments.
What Are Dermal Fillers?
Dermal fillers are a cosmetic injectable designed to hydrate, plump, and volumize facial contours, wrinkles, and other concerns. "Dermal fillers" is a categorical name, as there are multiple brands, formulas, and thicknesses designed to address different concerns. 
Collagen production decreases, and facial bones lose volume from age 25 on. This results in the face losing volume and definition. This causes wrinkles and fine lines and can create facial hollows, troughs, and sagging skin. While surgical procedures, such as a facelift, can improve wrinkles and sagging skin, they cannot reproduce volume. Dermal fillers "fill in" these creases and provide volume to facial hollows, doing the work that few other treatments can. 
Dermal fillers are made of gel-like formulas that contain either hyaluronic acid (HA), calcium hydroxylapatite (CaHA), or poly-L-lactic acid (PLLA), all of which have specific benefits for hydration, plumping, and collagen production. 
Michael A. Persky, MD, is an internationally renowned injection expert. During your consultation, Dr. Persky will discuss your specific goals and facial concerns to determine the best injectable filler and plans for your needs. Although injectable fillers are increasingly popular, you should always entrust your non-surgical procedures to a board-certified core aesthetic physician (facial plastic, oculoplastic, cosmetic derm, or general plastic surgeon .) Going to an untrained or inexperienced injector can have disastrous results, worsening your facial concerns. 
Dr. Persky performs cosmetic injectables with an experienced expert hand in the comfort and safety of our office. Your session should take 15 to 60 minutes, depending on the area of concern and the severity of your needs. There is minimal downtime associated with injectable fillers, although you may have some swelling and minimal bruising around the injection site. 
Which Dermal Fillers Are Best for Me?
Dr. Persky will determine the best treatment plan for you, but we'll give you some general guidelines for which dermal fillers are best for common facial concerns. 
JUVÉDERM® VOLUMA® XC for Cheeks and the Jawline
The JUVÉDERM® family of injectable fillers are some of the most well-known due to their ability to provide immediate, dramatic results. JUVÉDERM® fillers contain hyaluronic acid (HA) to attract and retain hydration, increasing the volume in the target area. 
JUVÉDERM® VOLUMA® XC is primarily used for volume loss in the face. The results are immediate, and more often than not, patients react with a "Wow!" when they look in the mirror. Dr. Persky injects this thicker formula deeper under the muscle and over the bone to contour the cheeks and jawline, artfully constructing a more natural, youthful profile. 
Other uses for JUVÉDERM® include: 
Hollows under the eyes

Deep creases around the mouth and nose (

nasolabial folds

)

Lines on the sides of the cheeks and mouth
JUVÉDERM® can provide instantaneous improvement to sagging cheeks, an undefined jawline, and deep creases around the mouth and nose, with results that last up to two years. 
Restylane®
Like JUVÉDERM® products, the Restylane® family of injectable fillers utilize the power of HA to hydrate, plump, and smooth wrinkles. Within the name Restylane®, there are specific products that Dr. Persky uses to customize each patient's treatment: 
Restylane®

corrects moderate to severe facial wrinkles and folds and can add more volume and definition to the lips.

Restylane® Lyft

is a more concentrated formula designed to add fullness to the cheeks and midface area.

Restylane® Silk

is used for more precise injections. This is ideal for fine lines around the mouth and to add subtle volume to the lips. 

Restylane® Refyne and Defyne

are used for more defined lines around the mouth (smoker's lines) and deeper nasolabial creases. What's great about these products is that they provide substantial volume without sacrificing facial movement, preserving the natural appearance of the mouth. These products are considered "expressive fillers" as they are well integrated, move naturally with facial expressions, and do not lump up with facial animation.
RADIESSE® and BELOTERO BALANCE®
RADIESSE® contains calcium hydroxylapatite (CaHA), which immediately replaces lost volume and stimulates collagen production in the skin and subcutaneous tissues. This formula then improves hydration and plumpness for longer-lasting results as your skin will continue to improve over time. 
BELOTERO BALANCE® utilizes HA to restore hydration and volume to the skin, lasting up to six months. Both RADIESSE® and BELOTERO BALANCE® can treat: 
Nasolabial folds

Marionette lines

Vertical lip lines

Lip definition

Hollow temples

Aging hands
Sculptra® Aesthetic
If you want to improve facial volume, sagging skin, and deep creases for long-lasting results, Sculptra® Aesthetic is for you. This injectable filler is comprised of the compound poly-L-lactic acid (PLLA), which stimulates collagen production. 
Sculptra® Aesthetic results take longer to become visible, as it works to heal and improve the skin naturally. However, once results have been achieved, you can enjoy younger-looking skin for at least two years, making it the longest-lasting injectable filler on this list. 
Sculptra® Aesthetic is used to: 
Improve hollowed cheeks and temples

Smooth bags under the eyes

Contour undefined jawlines

Minimize fine lines, wrinkles, and acne scars
Interested in Learning More About
Injectable Fillers in Encino, CA
?
Dr. Persky is a board-certified plastic surgeon and master injector. He can even combine the above products with a unique treatment called Medi-Inject. If you want to schedule a consultation to find out how dermal filler can help you, call us today at (818) 501-3223 or complete our online contact form. 
You can also learn more about Medi-Inject treatments by reading our blog.