Posted March 19, 2013 in Blog, Botox and Facial Fillers, Non-Surgical Treatments, Podcast, Press Release, Sculptra, Ulthera, Uncategorized
[leadplayer_vid id="5145DFA9EE125″]
Highlights in this episode:
00:30 – Initial Analysis
00:40 – Understanding your face
01:02 – Getting to you know you and
01:04 – Find out what's bothering you
01:50 – Non Surgical options
02:01 – Artistic Vision
02:30 – Replace Volume or pull back skin
02:40 – The double standard
03:15 – Fillers, Sculptra
03:30 – Ulthera, Non-surgical tightening
04:20 – Importance of Artistic Vision
04:45 – Watch out for aliens with big lips
05:03 – Experience, Skill and someone who cares
Dr Persky, Facial Plastic Surgeon in Los Angeles, in this interview he discusses the importance of the initial consultation and what really goes on. Dr Persky is a 26 year + board certified Facial Plastic Surgeon in the Los Angeles Area. Serving Beverly Hills, Hollywood, Encino and San Fernando Valley.
Hello, thanks for taking the time to have a look at this first of what we hope will be many informational videos about facial plastic surgery los angeles, facial rejuvenative surgery, just ways to look better, younger, healthier.
Today I just wanted to talk a little bit about what we do at the initial consultation in terms of evaluating patients for rejuvenation, and it's really all about taking the time to analyze what will help the patient look more youthful, more rested, more healthy, in a most natural way.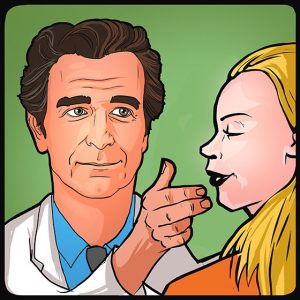 It has to do with shadows, and light, and highlights, and contours of the face, and all of those things are evaluated in analysis. So the first thing that's most important is observation.
At your consultation we sit down and basically try to get to know you, find out what your goals are, and ask what's bothering you, and then it's a matter of just observing and examining your face, and usually there's three things to consider.
#1 There's the outlying skin, the outer skin, #2 There's volume, and then there's #3 lifting and tightening, and other than whether if you come in for a bump on your nose, or excess skin on the eyes, or just a very saggy neck. Those things need surgery, but otherwise for most facial rejuvenative problems we can use non-surgical, non-invasive techniques to correct the problems and make patients look a whole lot better.
So once we've examined them and analyzed them, then it's very important to visualize where we want to go with the treatment, and I personally have a picture in my mind of what looks good and what looks good is the avoidance of very light, highlighted areas of the face right next to dark areas. That usually means that volume needs to be replaced or the skin needs to be pulled up just a bit. Certainly I am one who has dark areas and highlights on my face, but there's a bit of a double standard between men and women and I learned that from Sean Connery. He's aged very well.
So once we've analyzed, visualized, examined, and observed, then it's a matter of planning what the treatment should be, and that treatment usually involves good skin care whether it's a laser to take some brown spots off the face, skin care products, and then the volumes usually addressed with fillers. One of our favorites is Sculptura Los Angeles. It gradually and naturally replaces lost volume in the face, and then if non-surgical lifting and tightening needs to be done, we can use Ulthera Los Angeles which uses micro-focused ultrasound waves to lift and tighten the face, and the rap on Ulthera is that it's so painful, but in our practice we are able to make it almost a comfortable procedure by using local anesthesia strategically in the right places.
So once we've examined you and analyzed you and visualized and planned what we're going to do, then it's a matter of technically executing the plan with artistic vision, and I think it's really important if you're considering doing something to your face to make sure, the most important thing that you can do is make sure that you choose a facial plastic surgeon or plastic surgeon or dermatologist or aesthetic surgeon with good artistic vision because without artistic vision you could have technical success where things are injected and put in the face successfully, yet you can have aesthetic failure, and certainly we see those people out there all the time on the street almost looking like aliens. In fact I have a colleague who says that those big-lipped women are actually aliens, so they use those big lips to communicate with each other and let each other know that they're from planet Xenon. So that really wraps it up.
I think you want to choose a physician with experience, skill, someone who cares, and most importantly someone with artistic vision.
Our next installment of this we'll be talking about world beauty which is something that we, my associate Dr. Sarmela Sunder and I try to emphasize with our patients. So have a good evening and be well.
Thanks for listening. Bye bye.
Dr Michael Persky, Facial Plastic Surgeon, Los Angeles
26 + Years Board Certified.