Mini-Facelift
Sarmela Sunder, MD Mini-Facelift Q & A Video Series ….
"I believe that a naturally rejuvenated appearance is the goal of every facelift".  Michael Persky, M.D.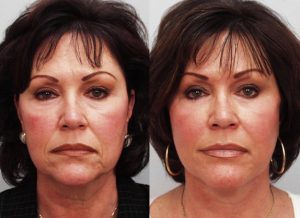 The changes seen in the aging face can be caused by the effects of gravity on a progressively less elastic skin and sun exposure or stress can hasten these undesirable changes. A facelift improves the appearance of the aging face and in many cases can "turn back the clock."
The major benefits of a facelift are in the cheek and neck area. The procedure is performed in an outpatient setting, under a general or sedative type of anesthesia. Incisions are made in the hairline of the temple, around the ear, and into the hair behind the ear. The skin of the cheek is then lifted and the excess removed. The Facelift can be combined with fat removal from the neck, as well as other cosmetic procedures such as eyelid surgery or laser skin resurfacing. Most healing takes place during the first week post-operatively. Some swelling and discoloration from bruising may last a few weeks.
Why do some patient choose the Mini Lift versus a standard facelift?
Unlike most other mini lift techniques which only tighten skin, Dr. Sarmela Sunder's technique involves tightening the SMAS layer. She also employs bi-directional technique in repositioning the SMAS layer and the overlying skin.
The mini lift is a much less invasive procedure than a standard facelift. Most people require less recovery time with a mini-lift. If a patient opts to have procedure performed under local anesthesia with sedation, rather than general anesthesia, the costs involved are considerably lower. However, because it is a less invasive procedure, it is not appropriate for every patient, particularly those that have excessive sagging of the skin.
At your consultation, Dr. Sarmela Sunder will be able to review your options with you and the two of you will determine together whether a mini lift is the best option for you. Although the results of a mini lift are less dramatic than that of a standard facelift, it can address specific signs of aging to rejuvenate those that have developed a tired appearance.